Diversity in the STEM Teaching Workforce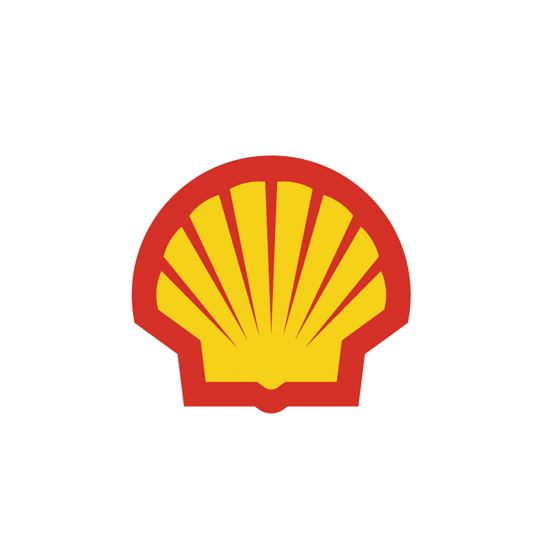 The Smithsonian Science Education Center in collaboration with Shell USA, Inc. is working with a Steering Committee of experts on minority participation in teaching careers. The Steering Committee is composed of education thought leaders, including experts from PK-12 and postsecondary education, Minority-Serving Institutions, and nonprofits. Together we will give schools and districts the tools to attract and retain STEM teachers from underrepresented groups resulting in 30,000 new and existing teachers by 2030.
2019 STEM Education Summit
From March 22-24, 2019, 21 leadership teams representing schools, districts, and alliances convened at Xavier University in New Orleans at the STEM Education Summit: Building a Coalition for Attracting and Retaining a Diverse STEM Teaching Workforce. These teams identified problems of practice related to recruitment or retention of STEM teachers from underrepresented populations. The Summit is a highly interactive 2.5 days, with clear objectives:
Create a logic model for attracting or retaining a diverse STEM teaching workforce.
Empower teacher leaders to be change agents in their schools or districts.
Foster a community of professionals committed to improving education for all students.
A team transcribes the highlights of their logic model onto a poster in preparation for sharing their plan with other attendees.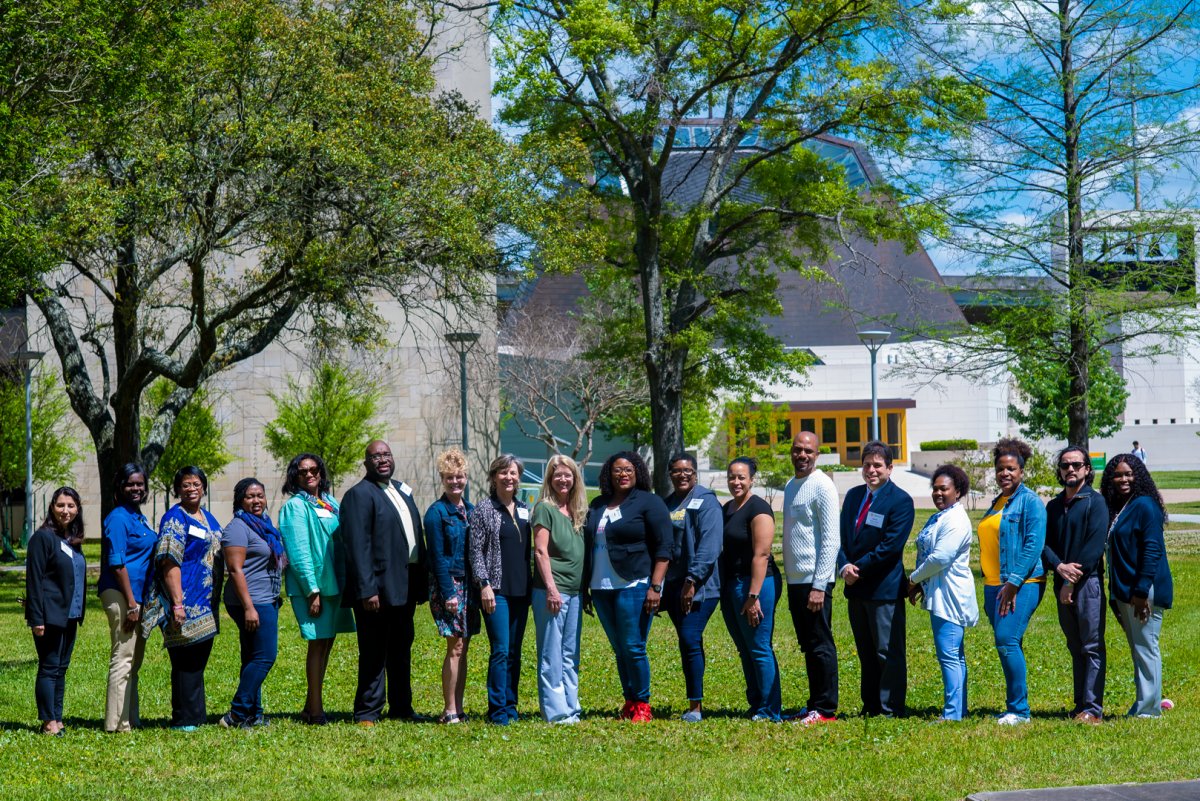 Individuals selected as mentors (pictured) work closely with a leadership team during the summit and in the months beyond to challenge their team's thinking, champion their work, and support implementation of their logic model.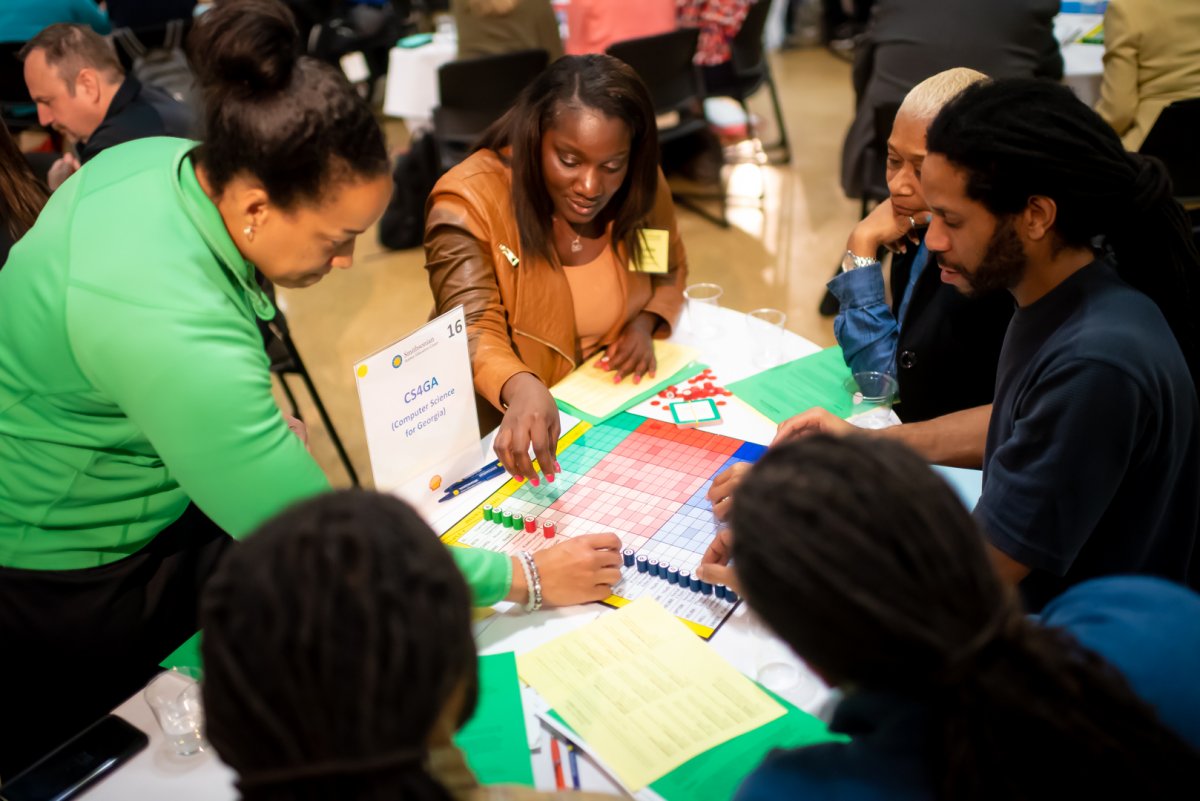 A team and their mentor experience the principles of systemic change in an activity at the outset of the 2019 STEM Education Summit.
The Leadership Teams
Teams in attendance at the 2019 STEM Education Summit periodically provide updates on their progress towards implementing the logic model they drafted in New Orleans. Below are the goals those teams identified for themselves related to either recruiting or retaining STEM teachers from underrepresented populations and their current progress towards achieving the outcomes indicative of success. Last updated May 7, 2020.
 
Planning
Taking Action
Results of Actions (Outputs)
Achievement (Outcomes)
Focus: RECRUITMENT
 
 
 
Within the next five years increase teacher diversity by 5%. Within the next 11 years increase teacher diversity to 20% focusing on science, technology, engineering and math educators.
✓
✓
Within three years develop a more diverse and dynamic STEAM teacher workforce that is prepared to instruct the growing student population.
✓
✓
To increase the number of diverse STEM teachers by 2% (Currently at 2,500) in our school district by the fall of 2020.
✓
Recruit, hire, and retain STEM teachers for at least three years.
✓
Increase the number of Computer Science teachers in Georgia that are black, latinx, or female.
✓
Increase the diversity of STEM teachers in grades 6-12 by 25% in 5 years
✓
✓
To develop and implement a purposeful and timely recruitment plan to be in place by 2021 to increase the hiring of highly qualified diverse STEM personnel, therefore, educating and producing a highly-qualified workforce for our community, statewide, and globally.
✓
To attract Latinx stem teachers and increase the numbers by 20%.
✓
Train and support all teachers to promote equity in the classroom including both new hires and existing staff. Increase the teaching staff to include teachers of color by 5% over the next five years by beginning recruitment in high school.
✓
✓
To increase the number of certified teachers with STEM backgrounds by 25% by the 2020-2021 school year by implementing intentional outside recruitment efforts and internal STEM content area certification incentives.
✓
Focus: RETENTION
To retain 85% by September 2022, by developing a mentoring program and a culturally relevant and specific professional development to strategically support new and returning STEM teachers who ignite STEM interests; therefore, producing more students who choose careers in STEM fields to meet the growing demands for STEM professionals in the surrounding communities.
✓
✓
Increase the number of teachers from underrepresented populations to match the overall diversity of student population in our district by 2025.
✓
✓
By June 2022, increase teacher retention by 5% through establishing systems to include teachers as sustainable key decision-makers and build relationships with teachers, students, parents and confidence in the school resulting in college career ready students.
✓
Achieve a STEM teacher retention percentage greater than the current 3.5 year average by year 2021.
✓
In order to continuously increase student performance and prepare students for STEM careers, annually retain 90% of our highly effective 6-12 STEM teachers as demonstrated over the next five years.
✓
✓
Increase diversity of teaching corps by 15% over the next 10 years to better reflect the needs of our students.
✓
By 2021, the goal is to have 70% of magnet teachers using culturally relevant STEM pedagogical practices, thus increasing teacher retention and providing opportunities for all students to be workforce ready.
✓
✓
Retain middle school STEM teachers.
✓
To retain 100% of our STEM teachers over the next 3 years by providing support in all areas to promote STEM and increase the number of students pursuing STEM related careers and feed into the workforce.
✓
✓
Retain 100% of the STEM program teachers over the next four years, therefore increasing the number of students by 50% entering the STEM workforce and academic programs, leading to an associate degree. The goal will impact the energy and medical industries by producing a diverse employable student.
✓
Increase district awareness and participation.
✓