The Next Steps Institute (NSI) offers advanced leadership development training to teams and individuals dedicated to making lasting, systemic change in their science education system.
This three-day program features thematic pathways that take participants through a deep dive of one specific issue in the field of science education. This immersive learning environment allows participants the space and time to deeply engage with the most pressing issues in science education and develop new knowledge that they will be able to bring back to their team and their community.
Pathways are interspersed with Salon Sessions, which deliver quick 75-minute info bites about projects, results and strategies. We welcome participants to register for The Next Steps Institute as individuals, or as a 3-person team.
Previous pathway topics:
Addressing New Standards through Curriculum and Professional Development
Building STEM Infrastructure Across your State, District, or Region
Crossing the "T" in STEM Classrooms
Re-engineering the STEM Pipeline to Create a more Diverse Workforce
Stretch Your Legs for Science! Engaging Youth in School (and Out) with Citizen Science
The "Nuts & Bolts" of Instructional Materials Support
Previous presenters have included:
Alabama Math, Science and Technology Initiative
Baltimore City Schools
BSCS Science Learning
Foss Science
The George Washington University
Cornell Lab of Ornithology
Next Gen Education, LLC
Santa Fe Public Schools
The Smithsonian Science Education Center
South Carolina's Coalition for Mathematics & Science
TGR Foundation
Historical information about The 2018 Next Steps Institute in Colorado Springs, CO can be found at: www.thenextstepsinstitute.org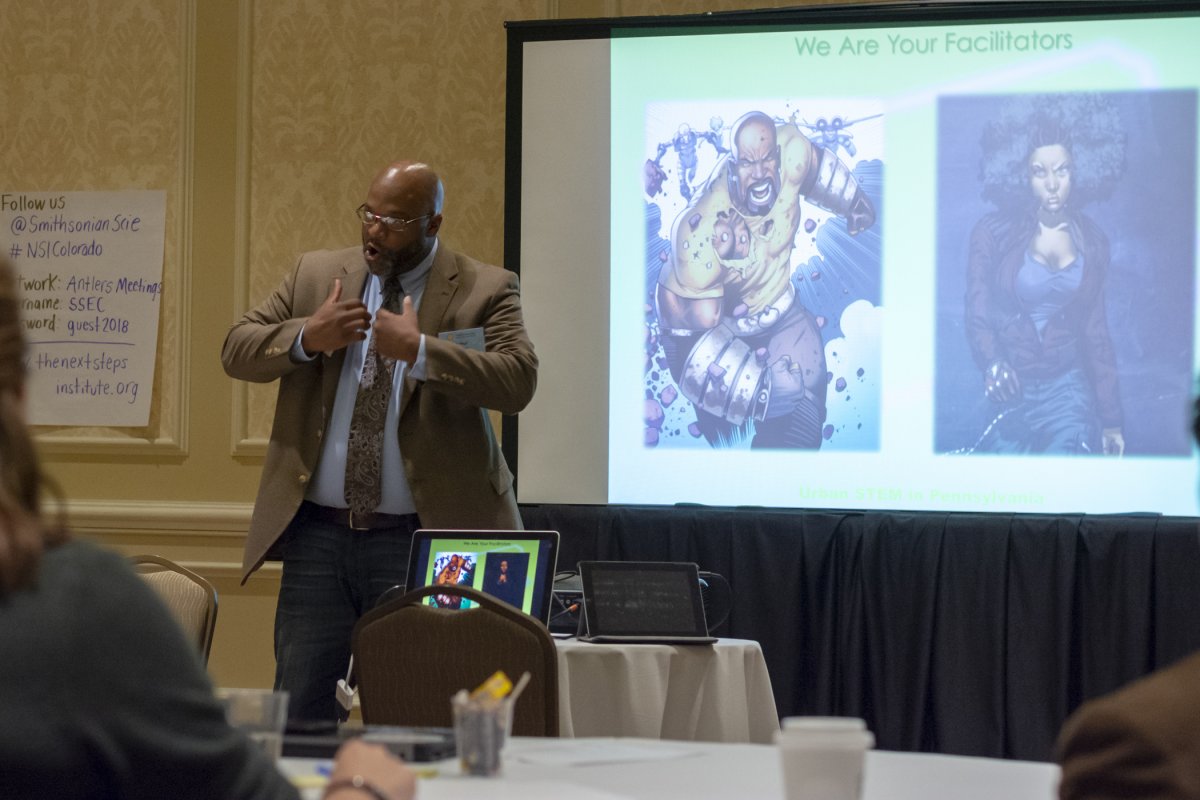 If you are interested in learning more about The Next Steps Institute, please send an inquiry email to: ScienceEducation@si.edu
Attn: Katherine Blanchard and include details of your planned implementation and desired event. You will be contacted by the SSEC.
Become an NSI sponsor
The Next Steps Institute is possible only through the generous contributions of our sponsors. Sponsors at the $5,000 level or more are invited to display and exhibit their information at no additional cost. If you are interested in sponsoring the Next Steps Institute through a financial contribution or in-kind donations of products, space, or time, please email Katherine Blanchard at BlanchardKP@si.edu with details of your proposed sponsorship.