Douglas M. Lapp Endowment Internship in Education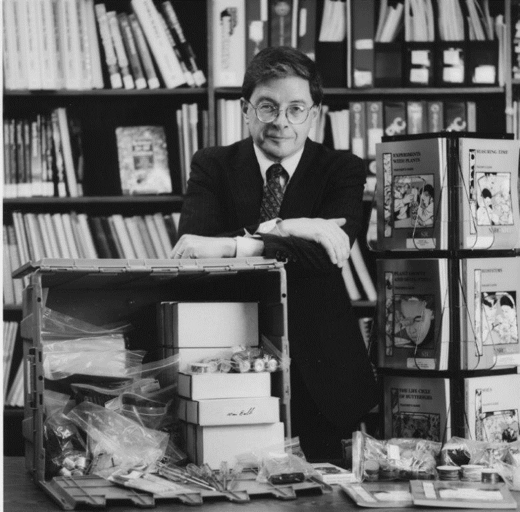 Background
The Douglas M. Lapp Endowment Internship in Education is funded through an endowed fund in honor of Douglas M. Lapp, the first Executive Director of the National Science Resources Center (NSRC), now named the Smithsonian Science Education Center (SSEC). 
Awardees of the Lapp Endowment Internship are appointed based on a demonstrated interest in the field of science education.                              
Internships are available for graduate students only who are interested in pursuing a career in the communications, marketing, or public relations fields.
This program was established in honor of Douglas M. Lapp, founding Executive Director of the National Science Resources Center (NSRC) from 1985 to 2002, now called the Smithsonian Science Education Center (SSEC).   The SSEC's mission is to transform the teaching and learning of science for K-12 students throughout the nation and the world. 
As Director, he was responsible for defining the Center's overall education program, especially for K-12 students and teachers, including building awareness for K-12 science education reform among State and district leaders; conducting programs that support the professional growth of K-12 teachers and school leaders.  Also, Doug guided the NSRC to find sustainable ways to bring inquiry and experience-based science into the classroom. Through this mandate, our original curriculum tackled issues such as invasive species, species interdependency, energy conservation, and soil conservation through a variety of curricular units spanning grades 1-8.
Purpose
Intern will conduct original research within science education and audience engagement and write original content at the intersection of policy and science education for our target audiences. 
The outcomes of the intern's learning experience include the following:
Help implement brand marketing and public relations best practices to increase brand awareness among SSEC's target audience
Generate and revise blog posts based on the SSEC's thought leadership
Learn to use a content management system (CMS) for web development to distribute content produced by the SSEC.
Learn how to interview members of our target audience for promotional materials
Learn how to work across the Smithsonian Institution to collaborate on brand awareness
Learn how to create media kits for partner organizations and how to pitch articles to media outlets
Learn how to execute against a public relations strategy for an educational organization
Write and revise blog posts based on trends in audience engagement, Google Trends, and science education
In 2019, we hosted our first intern!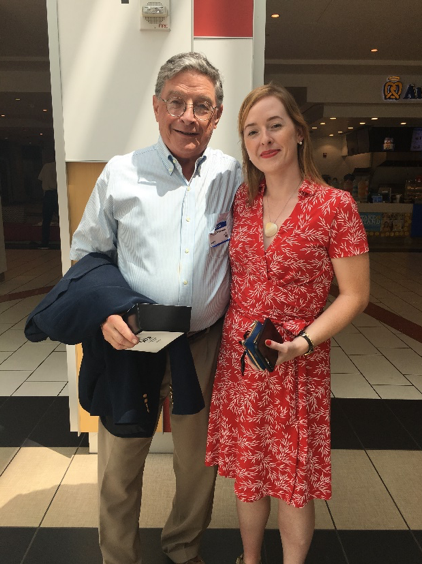 Douglas M. Lapp and Sara Cottle
Sara Cottle is a graduate student at the University of Colorado-Boulder studying Environmental Journalism and assisted our Curriculum team with module development within the Global Goals project.  
Here is what Sara had to say about her internship:
"I know it may be cheesy, but really the entire internship was memorable. From the friends I made to the people I had the chance to work with. The most memorable moment, though, was probably our trip out to SERC. That day I felt like I truly got to connect, work, and have fun with Hazel and Andre. We got to go seining that day and all I can remember is how excited I was and how much Andre and Hazel fed into my excitement for the activity. They didn't care that I'd never done it before they did nothing but encourage and make it even more fun and exciting. I don't remember laughing as hard as I did that day all summer.
Being able to see everything the Smithsonian offers and the different branches is always amazing. Seriously, send someone here for a week and see if they don't leave with years worth of inspiration for projects and ideas."
Eligibility
U.S. Citizens and U.S. permanent residents
Graduate students are preferred.  To be considered for this opportunity one must currently be enrolled as a graduate student with plans to pursue a graduate degree in the communications, marketing, or public relations fields of study.
How it Works
The 2020 internship dates are May 2020 to September 2020.
Awardees of the Lapp Endowment Internship are appointed based on a demonstrated interest in the pursuit of a communications/marketing/public relations discipline and available funds.
What You Will Be Doing for Summer 2020
We are looking for a creative Social Media Intern to work in our Curriculum & Communications department. The Social Media Intern is responsible for planning social media calendars, creating social media posts about SSEC events and assisting the Manager of Digital Media with brainstorming campaigns.
To be successful as a Social Media Intern you must have excellent knowledge of various social media platforms. A good Social Media Intern combines creative campaign ideas with analytical skills to create successful posts.
Develop a strategy for an online presence for the organization and the Director.
Manage the social media calendar.
Brainstorm campaign ideas.
Post on various social media platforms such as Facebook, Instagram, and LinkedIn.
Analyze analytics to gauge the success of campaigns.
Desired Skills:
Excellent knowledge of social media platforms.
Knowledge of analytical tools.
Creative mindset.
Ability to multitask.
Ability to work in a team.
A degree in Communication or a related field.
Prior experience with marketing or social media.
*Students studying Communications, Broadcast Journalism, or Digital Arts are encouraged to apply.
*Outgoing, friendly and personable.
*Interest in science or science education.
*Knowledge of Adobe Creative Suite software.
Stipend
$2500/15 weeks.
Application Deadline
February 15, 2020
How to Apply
Apply online through the Smithsonian Online Academic Appointment System (SOLAA) and search for Smithsonian Science Education Center.  Please carefully review the position description(s) prior to applying.
Once you have created an account and logged into SOLAA, you will need to complete all the required information including:
A current resume
A short essay including learning objectives
Two references from professors, advisors, or recent employers
Candidates will be asked to interview by phone.