The 2017 K–12 Science Education Institute for Leadership Development and Strategic Planning
Margaret Mead once said, "Never doubt that a small group of thoughtful, committed citizens can change the world; indeed, it's the only thing that ever has." During the week of July 24-28th at the 2017 K–12 Science Education Institute for Leadership Development and Strategic Planning, seven teams consisting of district and school administrators, teachers, and community members became the pilots of change. Committed to implementing Science, Technology, Engineering, and Math (STEM) into their school communities, each team had the task of devising a 5-year strategic plan using the Smithsonian Science Education Center's Leadership and Assistance for Science Education Reform (LASER) model. With sessions led by both Smithsonian Science Education Center staff and experienced faculty from around the country and beyond, these schools and districts became equipped to change the lives of their students.
The week started with the group collectively formulating a definition of STEM that would drive their goals for their strategic plan. They agreed, "STEM is an interdisciplinary approach to creative problem solving and inquiry—through collaboration and innovation—using computational and analytical skills to solve real world problems." Then, they determined what skills each aspect of STEM required, ultimately concluding communication skills, critical thinking, and problem solving are fundamental in all areas.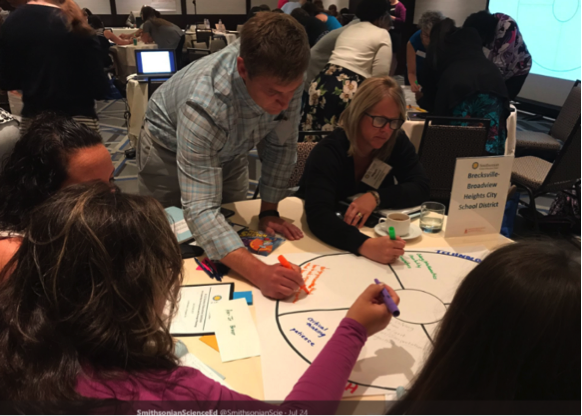 Participants brainstorm the skills required in Science, Technology, Engineering, and Math (STEM). Photo by Claire Cressman
The first day concluded with the teams playing the Change Game. Simulating a school district trying to implement a program within a two-year period, the teams found the roadblocks and frustrations in the game very similar to the ones they continually see in their daily lives. From this experience, they learned that change takes time and requires persistent communication. Getting to see different roles and relationships work together within a school district brought a new understanding to the task of implementing change.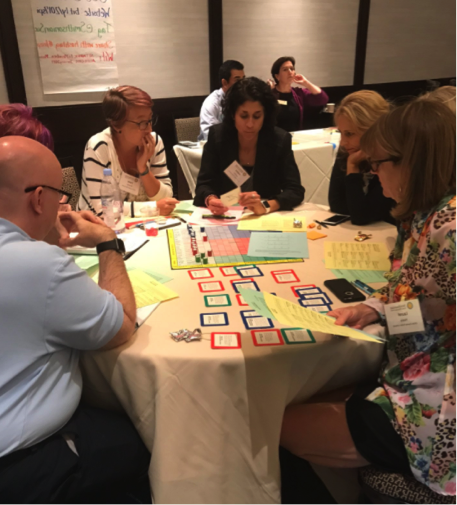 Participants are hard at work playing the Change Game. Photo by Claire Cressman
On Tuesday, the participants began writing the foundations of their strategic plans. They formulated shared vision statements that would serve as the centers of their strategic plans. With team planning time and faculty assistance, participants were eager to take what they learned thus far and put it into their plans.
Wednesday focused on curriculum and professional development. During the curriculum session, teachers evaluated the materials they currently use at their schools. In determining the value of their materials, participants learned that they should keep materials that align with their vision and clear out the ones that do not. In the professional development session, participants gathered that the framework of professional development is not a plan, do, and done model, but rather it requires the steps of recognizing one's vision, analyzing student data, setting goals, planning, doing, evaluating, and repeating. Participants then broke out into different groups to understand the roles that administrators, teachers, and community members play in the professional development world.
Participants spent Thursday identifying the community and administrative support needed in their strategic plans. To gain inspiration, the group went on workforce site visits around the DC area, including trips to New District Brewing, the George Washington University, and the DC Consolidated Forensics Lab. During these visits, our participants learned about STEM career opportunities that surround different aspects of our everyday life. They spent the afternoon brainstorming different partners within their communities that could contribute to student understandings of the STEM workforce.
On Friday, the teams focused on program evaluation and student assessment and what each of them look like in regards to the effectiveness of their strategic plans. From the Systems Thinking Game to taking selfies to remember conversations with colleagues, the participants had some laughs and smiles before they wrapped up the first drafts of their strategic plans.
The week finished out with each of the teams presenting their strategic plans and a pervasive sense of achievement that this work will impact more than  360,000 students. There is much work to be done in making these plans a reality, but this institute was the start of many great things to come!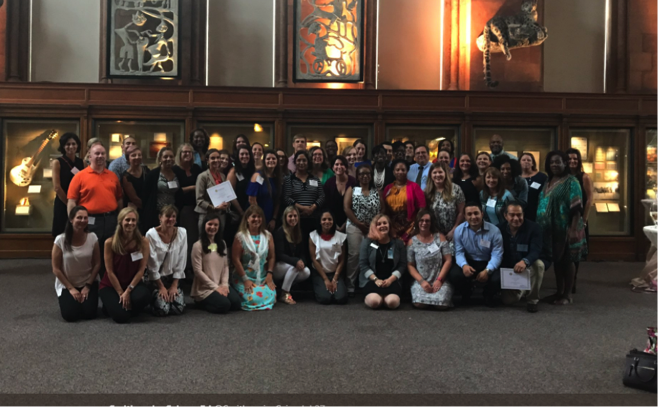 Celebrating the conclusion of a great week at the Smithsonian Castle. Photo by Claire Cressman
About the Author