The 2019 Smithsonian Science Leadership Development & Strategic Planning Institute
On the morning of Monday, July 22nd, 60 educators representing 11 school systems from around the world made their way toward a ballroom in Washington, DC. Nametags were retrieved, coffee was poured, handshakes were exchanged, and eventually each chair in the room was claimed. As the room's volume grew by the minute, so too did the palpable mix of enthusiasm, determination, and eagerness for each team to dive in to their task for the next five days: devising a five-year strategic plan for their school system's Science, Technology, Engineering, and Math (STEM) program using the Smithsonian Science Education Center's (SSEC) Leadership and Assistance for Science Education Reform (LASER) model. At 10:00 am, the welcoming remarks began, kicking off the 2019 Smithsonian Science Leadership Development & Strategic Planning Institute.
The institute consistently brings in a diverse group of participants, as each team contains a mix of individuals that may include administrators, teachers, department chairs, community members, and government officials. Yet from this first morning, it was clear that the 2019 institute was special in regard to both its participants and the populations they represented. Some teams were creating strategic plans for individual schools, others for counties around the United States, and others for entire countries. In the room there were representatives of three continents and three primary spoken languages. Thanks to simultaneous translation services, it became routine to see a wave of headphones come on and off as presenters switched between these languages.
Given the array of cultural contexts, educational goals, and systemic needs that this year's participants brought into the room, the diversity among the presenters there to support them became a great asset. These "faculty" members represented a wide range of backgrounds and expertise in the STEM education world, which allowed the teams to gain valuable insights on every aspect of their strategic plans. There were educators who understood the complex dynamics of implementing a strategic plan at the school level, there were others who ran nonprofits and thus understood the nature of community partnerships, and still others who have experience working with schools on a district and national level.
After the welcoming remarks and an overview of the SSEC, the teams began their first task: to collectively formulate a definition of STEM that would drive the vision and goals for their strategic plan. They worked together to consider what skills each aspect of STEM requires, and phrases such as "critical thinking," "logic," and "problem solving" emerged on just about every team's chart. From this step, each team determined a shared definition of STEM education as a whole.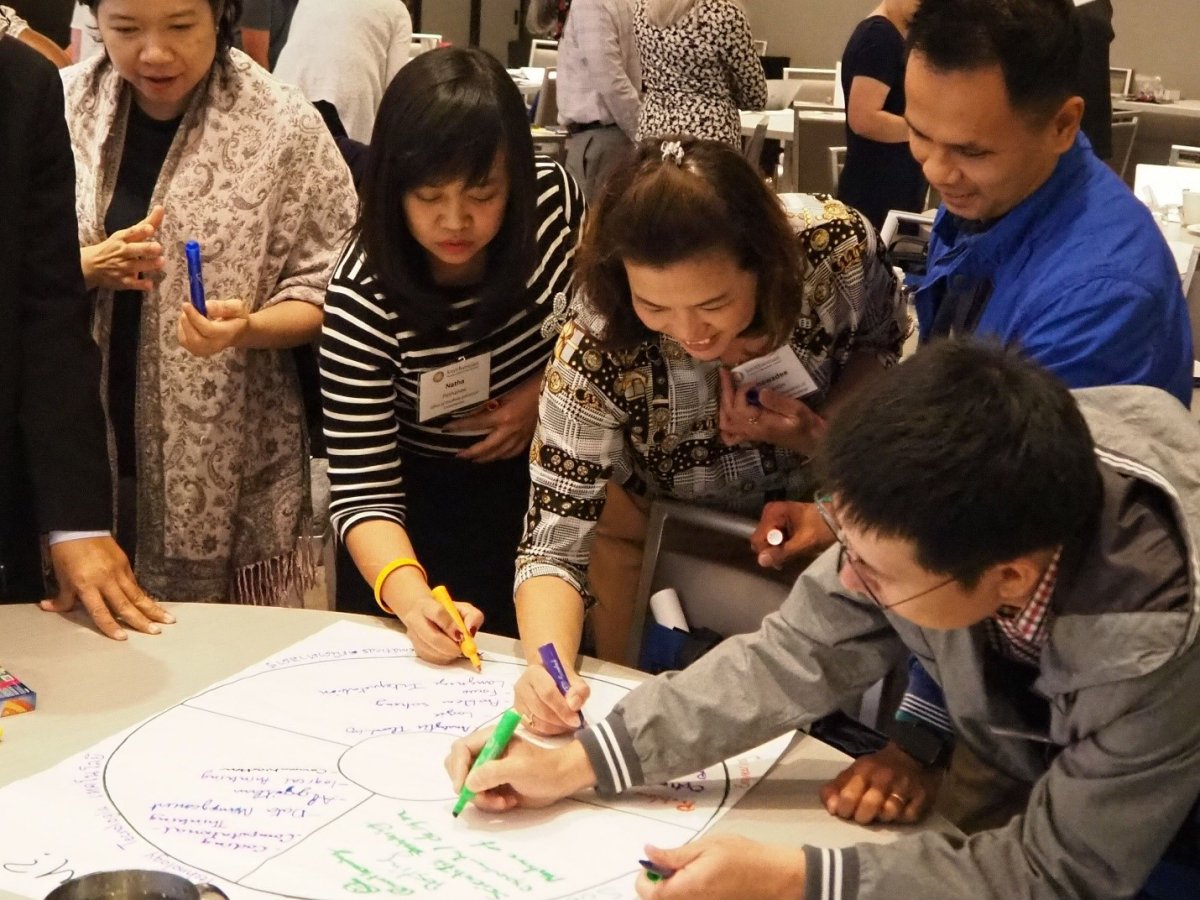 Team members use a graphic organizer to help them develop a shared definition of STEM.
In the afternoon, the teams took part in a simulation known as the Change Game. In this game, the teams simulate trying to implement a program in their school district within a two-year period. Even with such a diverse set of participants this year, each team enjoyed the task and could see their own school systems reflected in various parts of it. Under the constraints of budget, varying perspectives and attitudes of colleagues, and time, the teams found the obstacles they faced—and the frustration they felt—to be quite familiar to their real-life experiences. The game helped each participant realize the patience, persistence, and constant communication that systemic change requires, as well as all the diverse roles and relationships that must work together to contribute to such efforts.
On Tuesday, the teams took the first steps in forming their strategic plan: writing a vision statement. With time to discuss among themselves, they eventually crafted a shared statement to be the centerpiece around which the rest of their plan would form. Even though the teams represented different school systems and cultural backgrounds, several themes emerged across all the vision statements: fostering creative thinking and problem solving, focusing on real-world phenomena, and raising students who will develop solutions to today's issues using their STEM expertise. After examining effective science curricular materials, the teams spent the afternoon learning about the process of strategic planning. With faculty assistance and the input of other participants through a gallery walk, the teams were ready and eager to start constructing a plan.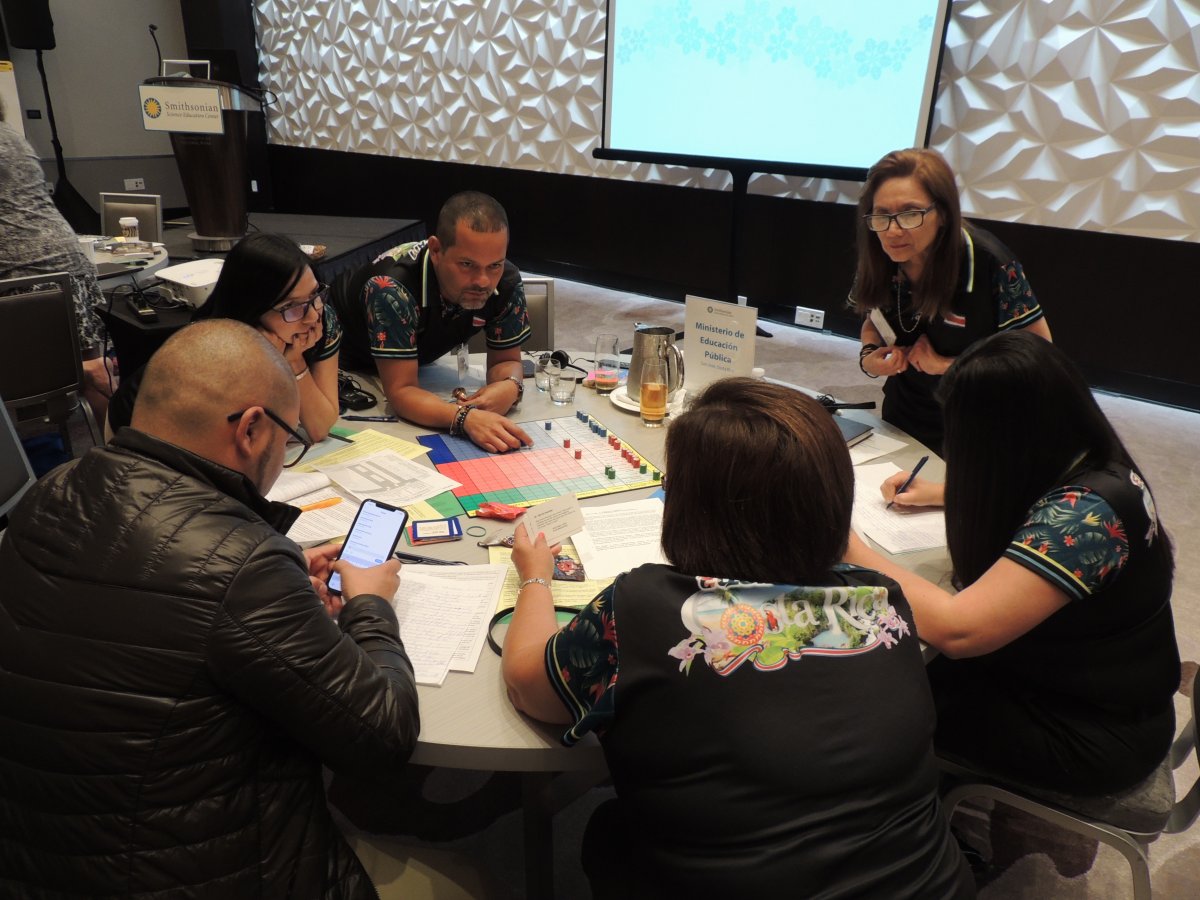 Teams demonstrate their determination and collaboration around a Change Game board.
Wednesday morning brought special guests from Johnson & Johnson and the Cooper-Hewitt, Smithsonian Design Museum in New York. They led an activity on the design thinking process. Several teams had expressed interest in STEAM initiatives, with the addition of an "A" for "art." This activity showed educators one way to infuse creative thinking and art into a STEM curriculum. Afterward, the teams dove into professional development. Participants saw how professional development is not a process of plan, do, and done; rather, professional development starts with recognizing a vision, analyzing data, setting goals, planning, doing, evaluating, and repeating as necessary. Participants then attended breakout sessions on the unique needs of teachers, community members, and administrators in professional development. They then regrouped into teams to apply their insights from each presentation to their own strategic plans.
Thursday began by examining workforce preparedness in STEM sectors, which addressed the theme of preparing students to be informed citizens and skilled employees that appeared in several vision statements among the teams. To gain a new perspective, participants were split into three field-trip groups to visit nearby sites and gain insights about career paths in STEM fields that most students are not exposed to in school. One group met with horticulturists at the Smithsonian Gardens, another with the facilities management team at the Smithsonian National Museum of Natural History, and a third group learned about forensic science at the Washington, DC, Consolidated Forensic Laboratory. In the afternoon, the teams dove into administrative and community support, working together to identify different partners within their communities and learning how to effectively develop those partnerships. Several faculty members with backgrounds in business and nonprofits were able to provide valuable insights to each team with respect to this topic. Later, each team developed an elevator speech for pitching their STEM initiatives to potential partners and sponsors. By the end of the day, many participants expressed assurance and excitement in pursuing community partnerships as part of their strategic plans.
The Smithsonian National Museum of Natural History group poses outside the Smithsonian Castle.
On Friday morning, the teams split into breakout sessions on program evaluation and student assessment, exploring what each aspect will look like in regard to their strategic plans. After lunch, the teams explored materials support. While simulating materials refurbishment, the teams assembled complete, "like new" kits for a science lesson from cluttered boxes and disorganized storage closets. In doing so the participants recognized the importance of materials management to a successful STEM program. This marked the final activity, and the rest of the afternoon was devoted to final planning before the teams presented the first drafts of their strategic plans to their peers. In a blur of picture taking, table clearing, and final goodbyes, the participants left with the same determined eagerness that they brought with them on Monday morning, now armed with the tools and structure to be successful.
After all that was accomplished in this week, these five days were only the first steps of what is to come. Eleven teams, notwithstanding their geographic, cultural, linguistic, and educational differences, united around quality STEM education for their students. With road maps in hand, they are now on their way to shaping the education of 3.3 million students worldwide!
About the Author