The 2019 STEM Education Summit: An Intern's Experience and Brief Reflection
Buzzwords––they seemingly permeate every space we interact with these days: office meetings, TV advertisements, every nook and cranny of the Internet from TED Talks to presidential tweets. Here are some from Wikipedia's intriguing list: Empowering. Sustainability. Paradigm. Globalization. You get the gist. We're going for broad reach and bling.
Yet how elusive the actual meaning of buzzwords remains, despite how frequently we encounter and use them ourselves. Let's also admit how tired we sometimes get of them, even if they stand for some very important movements and ideals within our society. It's human nature, after all, to prefer something concrete and tangible, and big-picture jargon doesn't always cut it.
But there is substance, whether we see it all or not, behind each of these lofty terms. During my internship, I got to personally know––on a very concrete and tangible level––two of them very well: STEM and diversity. Here's the rundown on who, what, when, where, why, and how. As a Professional Services intern with the SSEC, I had the opportunity to help plan and facilitate the third annual STEM Education Summit: Building a Coalition for Attracting and Retaining a Diverse STEM Teaching Workforce.
Post-summit and post-internship, I am still a long way from unpacking all the different facets of STEM and diversity. But I wanted to share with you just a little bit of what I have come out of this experience with and shed some light on some of the real work that real people do every day in this field. Their work is concrete, demanding, and important. It is what gives meaning and value to these buzzwords we see thrown around so often.
So what exactly is the rather broadly-named STEM Education Summit? Here's the event description that explains it better than I ever could. Take a look! When you're done, meet me back here.
Hi again! So now let's take a brief, reflective look at the summit through my eyes. As I mentioned, I was the intern. I was someone (and I mean this playfully) not really that high on the totem pole of important people. I wasn't a participant or a mentor from a school district keen on initiating change for their students. I also wasn't a steering committee member or presenter with decades of knowledge and experience in the education field. And I definitely was not any of my colleagues at the SSEC who are experts infinitely wise and dedicated to their work, of which the STEM Education Summit is just a fraction.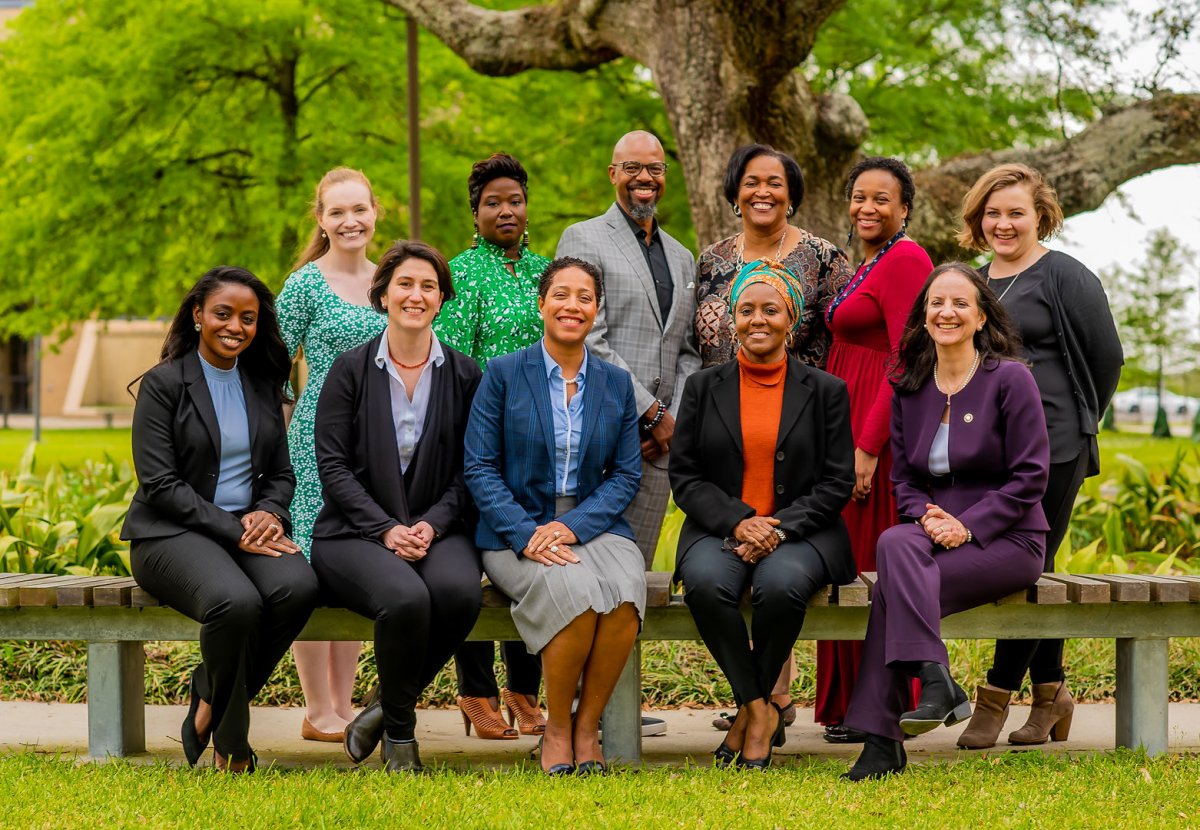 Representatives of the steering committee helping to drive the efforts to diversify the STEM teacher workforce. Photo Credit: IMG Artistry
But to give you a better perspective of where I am speaking from, here's who I am rather than who I am not. I am a college student pursuing a STEM major. I have a strong interest in the field of STEM education. I am a first-generation immigrant, a woman, and Chinese-American. I was raised in the DMV area. I attended a top-ranked STEM magnet high school that is somewhat infamous for its blind admissions policies and, somewhat relatedly, its percentages of African American, Hispanic, and FRL students that are in the lower single digits and still declining every year. This is despite serving a district whose trends are going the opposite way. I currently attend a "public ivy" college where the average student is white and upper middle class—something that everyone, whether or not they fall into this generalization, is starkly aware of.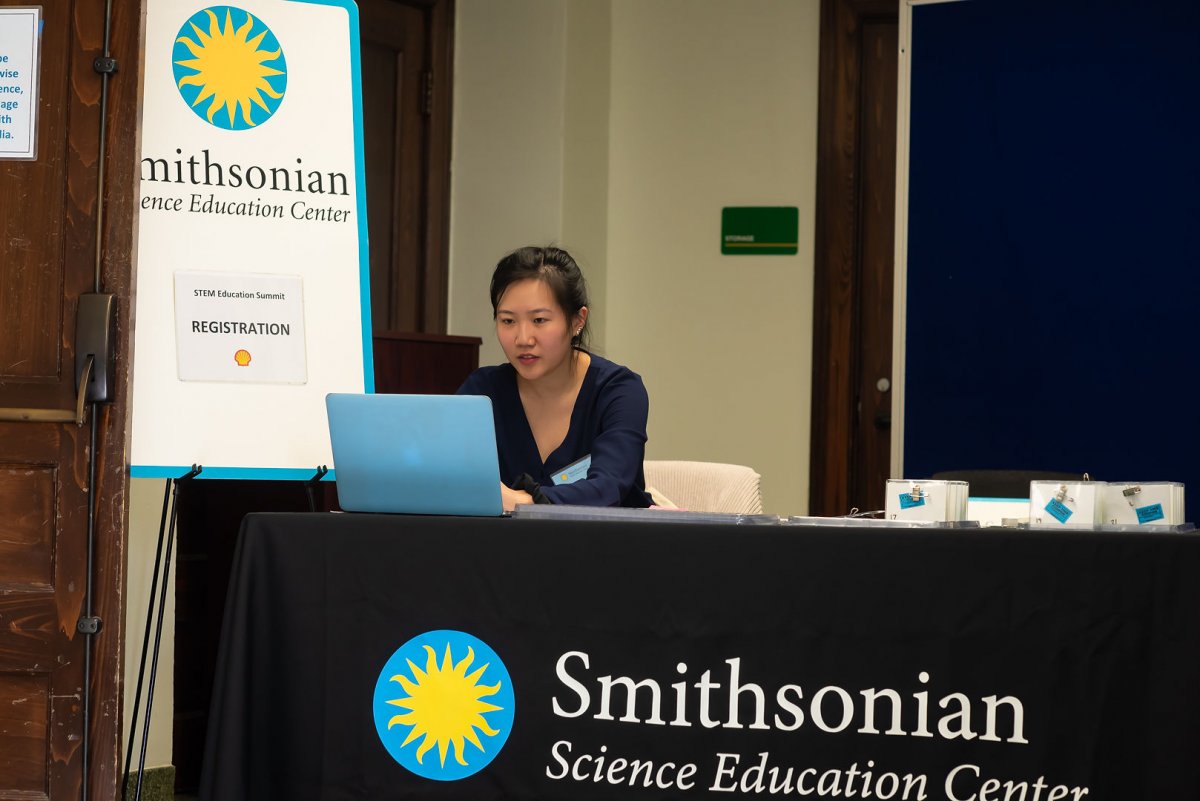 Kathy sits at the registration table awaiting participants. Photo Credit: IMG Artistry
So that's my background. In many ways, it looks very different from many others at the conference. And even though there were comparatively many similarities between participants, everyone also differed from one another in some way.
Yet 140 people, from all corners of the United States, managed to gather together in one crowded room from March 22 to 24 and work toward one unified goal: to make a plan to diversify the STEM teacher workforce in their schools and school districts so that they could better serve all students. That's pretty cool!
Looking at the result, our little conference in New Orleans, Louisiana, will already impact and affect 20 or so districts across America from Texas to Maryland to Colorado to Puerto Rico. This annual summit is just a small part of a larger movement toward diversity in the STEM teaching field, which is just another small part of larger and larger movements within education and beyond. All these movements, in the end, are working for the same thing: change. 
Like everyone at the summit discovered during one very well-received activity simulating systemic change in a school district, change––at its core––comes from and is about people. So it is a wonderful thought that the change to come in the education field is in the hands of such capable, determined people like the ones I worked with and met at the summit.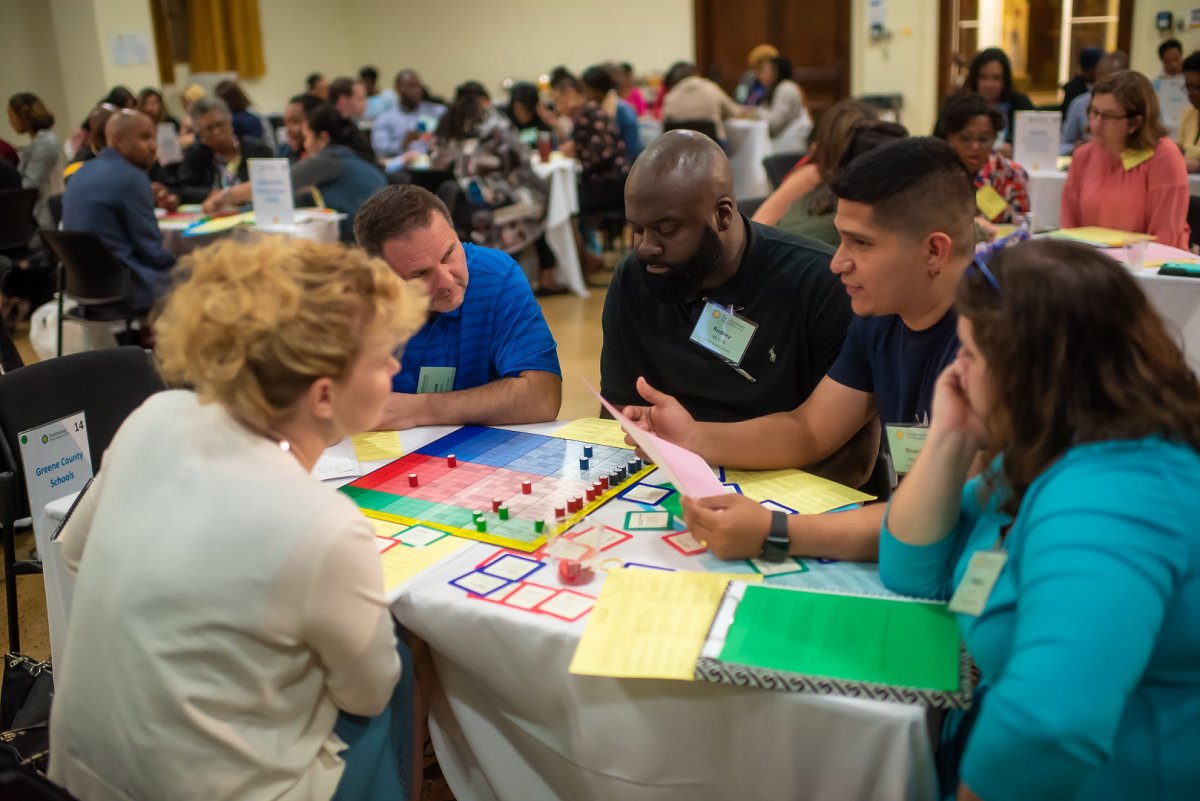 Participants engage in the "Change Game" simulation. Photo Credit: IMG Artistry
Over the weekend, to speak broadly, we talked a lot about getting to the root of things. The root of who we––teachers, administrators, industry professionals, etc.––were and how we made the journey to get to that weekend at the STEM Education Summit. The root of our teams and districts––our teamwork dynamics and our individual connections as well as the key strongholds and stakeholders we needed to enlist back home to make the change we wanted to make. The root of our area's problem and the solution we were here to brainstorm––the underlying issues in and the complex makeup of our schools and school districts, all the intricacies we needed to address and work with to implement a comprehensive plan to attract and retain a diverse STEM teaching force. 
And I, too, got to the root of some things. Whether I was weaving through the tables or typing away on my laptop on the sidelines, eating dinner with the participants, riding in the "mom van" with my coworkers, or simply listening to and processing all the conversations and feedback from the Summit, I got to the root of where I came from and who I want to be. I discovered what and how I could contribute to this specific movement, to the SSEC's overarching mission (to transform the teaching and learning of K–12 science throughout the nation and world), and to the field of education and society at large.
It's all still a work-in-progress. It's a work-in-progress for the teams who are now home with their plans, for the presenters, steering committee members, the SSEC staff planning new programs, and for me as I finish up my undergraduate degree next spring and search for what's next.
The most important bit of that is the "in progress" part. I am excited to see how all the lives vested in our two favorite buzzwords—STEM and diversity—will change and transform in the months, years, and decades to come. And I hope that you (the reader) and I, along with the SSEC, the summit participants, and everyone else in this great big world, will be a part of that change and transformation every step of the way.
About the Author