August in Review
Image Jim Lillicotch
Leadership Week: K-8 Principals (Pittsburgh, PA)
On August 2nd, Dr. Carol O'Donnell provided the keynote address at the Leadership Week: K-8 Principals conference in Pittsburgh, PA. In addition to spotlighting Smithsonian Science Education Center's mission and goals, O'Donnell touched on topics such as how science standards have evolved over time, how science instruction has changed in Pennsylvania, and the key findings of Smithsonian Science Education Center's LASER initiative.
Zika!
Dr. Carol O'Donnell, met with Tom Arrison, Program Director for Development, Security and Cooperation at The National Academies of Sciences on August 22nd. Arrison oversees one of the three InterAcademy Partnerships (IAP), namely Research, and O'Donnell serves on the IAP Science Education Programme Global Council, which focuses on supporting inquiry-based science education for students in all nations. Arrison and O'Donnell discussed the proposal O'Donnell submitted to the Moore Foundation on behalf of the IAP to support the development of a K-8 inquiry-based science curriculum module that focuses on teaching students about mosquito-borne illnesses.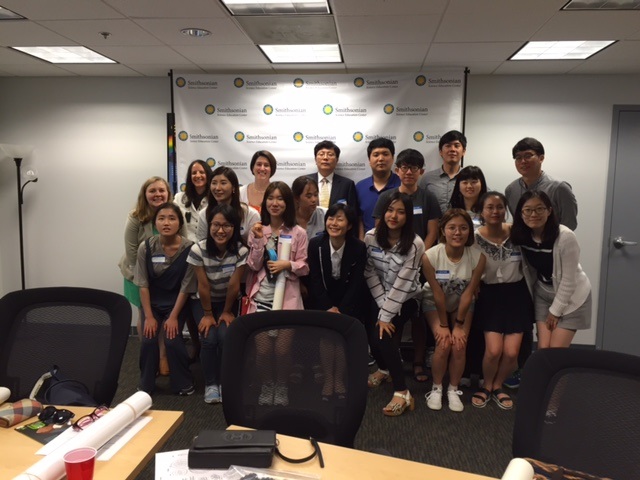 Image Katherine Blanchard/Smithsonian Science Education Center
Korean National University of Education
On Wednesday, August 24th a group of 18 visitors representing the Korean National University of Education attended a session at Smithsonian Science Education Center's offices to learn about the SSEC's mission, its place within the Smithsonian, and the products and services SSEC offers. The group was made up of faculty and students from the university, most of whom focus on STEM fields. In addition to meeting with O'Donnell, attendees met with Division Director of Professional Services, Amy D'Amico, and Program Specialist Katherine Blanchard. The group participated in a hands-on, inquiry-based lesson from the STC Curriculum, Motion and Design, and gained a great insight. 
Related Tags
About the Author