HISD Schools Revisit Strategic Plans
In an effort to maintain momentum, 21 LASER i3 Phase 1 school teams from HISD took part in a two-day Implementation Institute (II), a follow-up to their 2012 II. The 64 administrators, teachers, and community members gathered together to revisit, reevaluate, and revise their five-year strategic science plans they developed roughly two years ago.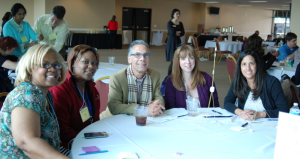 A Phase 1 school team
"An II brings those teams back to delve deeper into portions of the strategic plan," said SSEC Houston Regional Coordinator Kim Ottoson. "What stood out to me was when schools would call me and ask, 'When is the II scheduled?' 'We want to be sure to include it on our campus calendars.' 'We don't want to miss it!'"
Peck Elementary Assistant Principal Mario Cantu explained that the II addressed the issue of teacher mobility.
"The [strategic plan] can assist and guide the new teachers to continue with the Laseri3." Adding that even though the LASER i3 grant is ending, "science instruction must continue with inquiry based, hands-on, and meaningful lessons to ensure students' academic achievement."
The SSEC aimed for school teams to leave the institute with a plan of how to continue strong science education beyond LASER i3.
A school team takes part in a team-building activity
"As an administrator, I will share this information with my supervisor to ensure that we have money allocated in our budget to facilitate teacher training, refurbishment of materials and replacement of missing kits," said Cantu.
The II concluded with school teams reflecting on their strategic plans and sharing ideas related to their implementation.
"This activity provided us with the opportunity to hear other points of view, possible solutions to common issues that might arise ... and strategies; [this] resulted in an eye-opening experience," said Cantu.
Related Tags