Houston Phase 2 Schools Plan Science
At the end of January, 82 administrators, teachers, and community members, representing 21 Houston Independent School District (HISD) schools participated in a five-day Strategic Planning Institute (SPI). As part of the LASER i3 project, participating Phase 1 & Phase 2 schools and districts have the opportunity to attend SPIs that are tailored to meet the unique needs of their regions.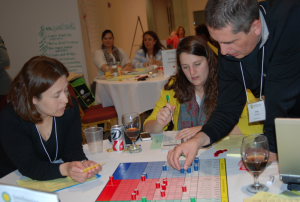 A school team plays the "Change Game" to learn how to bring about change in schools
"The purpose of a SPI is to give schools the research behind, and strategies necessary, to make a long range plan for science education reform," said faculty member Wayne Strickland. "At the end of the experience, teams have a draft plan for implementation over a five year period that can affect a positive change in the education of their students."
"The Institutes provide a framework for campuses to think more clearly about the competing initiatives that the district is offering and to strategically choose those that will help their campuses meet their goals," said SSEC Houston Regional Coordinator Kim Ottosen. "The act of taking time to reflect and making educated choices is what makes school team planning strategic."
This SPI was the first formal SSEC event Phase 2 school teams have attended.
"I was very impressed with the dedication of the teachers who attended," said Strickland. "I was instantly struck by the sheer size and diversity of the district, and the way the teams enthusiastically tackled such a monumental task for the betterment of science instruction for their students."
"It was interesting to see the changes in interest level throughout the week," said Ottosen. "The first day seemed confusing and perhaps frustrating to some campus leaders who felt their time may have been better spent on campus with their students. [But,] as the week went on, the investment started to show dividends, and by the time the teams were able to network with the Phase 1 teams who went through the same process in 2012, the energy was high and people were enthusiastic."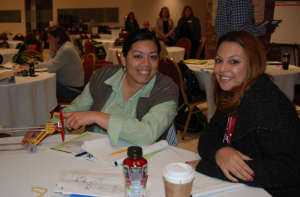 Participants go through a Motion & Design lesson
The Smithsonian Science Education Center (SSEC) began hosting Strategic Planning Institutes (SPIs) in 1989 in an effort to guide school and district leadership teams through the development of five-year strategic science plans. Experts in the field lead sessions on curriculum, materials support, professional development, assessment, and administrative & community support. By the end of the five-day institute, teams leave with detailed strategic plans to implement in their schools and districts.
Related Tags