Hydraulic Crabs and Energy Bikes: SSEATS Transforms The Classroom
Scott Harrison, a 6th grade teacher at Freeland Elementary School in Michigan, attended the 2014 Smithsonian Science Education Academies for Teachers on Biodiversity in Washington, DC. The year prior, Scott attended the "Energy: Past, Present and Future" SSEAT. Scott's experiences at these Academies have empowered him to develop new and exciting units for his classroom and pursue funding to put even more ideas into action. Congratulations to Scott and Freeland Elementary for their latest win in the Samsung Solve for Tomorrow contest!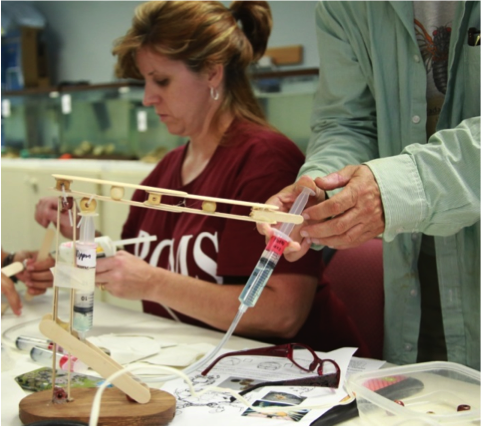 Attending the Smithsonian Science Education Academies for Teachers has proven to be, hands down, the most beneficial training I have ever received. The academies motivated me to offer opportunities to my students that would not otherwise be possible. After learning about so many awesome hands-on and STEM-related activities, I feel better equipped to offer similar activities to my students. Thanks to the academies, I have worked to obtain multiple grants to secure funding for large STEM-based projects in my classroom. Most recently, I have taken the concept of biomimicry from the Biodiversity Academy and incorporated it into my classroom. I received a grant that will allow me to teach a full unit on biomimicry with my classes in the spring. Students will create a fully functioning hydraulic arm that mimics how a blue crab functions. I also attended the Energy: Past, Present, and Future Academy. While attending the Energy Academy, I saw an awesome energy display that could be easily incorporated into my classroom. I have developed it into an energy unit in which the students learn about forms of energy, energy transfer, and energy efficiency. We conclude the unit by building a bike-powered generator that lets the user feel the amount of energy it takes to light different types of bulbs, like incandescent, CFL, and LED. Then the students staged a public demonstration at our local grocery store to inform the public. We used this project as part of the Samsung Solve for Tomorrow contest and were declared the state winner of Michigan. Our prize package is $22,000 worth of Samsung technology for our school. We are now moving on to the national competition, which has a top prize valued at $138,000. None of this would have been possible without the training I received from SSEATS.
In the coming weeks we will continue to feature individuals who have participated in SSEC initiatives, professional development workshops, or leadership development institutes. If you would like to learn more about any of our upcoming opportunities, please visit our Upcoming Events page.
Related Tags
About the Author