Laser I3 Teacher Spotlight: Ms. Rivera
Doris Rivera has been a teacher for over 17 years, and she and her school are a part of the LASER i3 project. Ms. Rivera currently teaches 3rd grade at Tierra Amarilla Elementary, a school in rural Northern New Mexico with roughly 120 students. She has 12 students in her classroom. All of her students receive either free or reduced lunch, four are English Language Learners (ELL), and all fall within a wide range of academic ability. Tierra Amarilla is a pre-K through 6th grade school with one classroom per grade level. Thank you, Ms. Rivera, for giving us a glimpse into your classroom!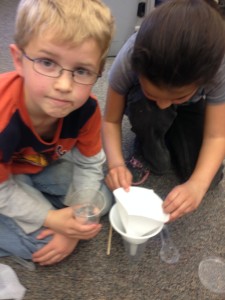 What does "inquiry-based learning" mean for you and your students?
Inquiry Based Science means hands on activities. My 3rd grade "scientists" know that it means we are not only going to read and write about science, but we are going to learn by doing observations and investigations with real materials and scientific tools.
How do you teach science in your classroom?
I am lucky to be able to teach science every day for 45 minutes. We are on a 4-day school week, so this totals about 3 hours a week. This is not nearly enough time. My planning comes right out of the STC teacher's guide. It is scripted, so I pretty much follow it. I use my notebook I made at summer training on a daily basis -- I don't know what I would do without it. I keep track of tricks and things that I discover, so I can use them next time I teach. I set up materials on our science table before the lesson ... this will pique the students' curiosity every time.
As far as instruction and classroom activities go, I usually spend one day working on notebooks -- getting ready for the investigation: writing our lesson number, focus question, prediction, and setting up for observation. We will also review the materials and plan for partners. We will also use this time to do the literacy activities.
The next day we will go right into the investigation, observation (discussion and written), written conclusion, and reflection (aka, claim and evidence). This usually stretches into our Language Arts time. If we do not complete it, or don't have a chance to share our reflections, we will start out the next session by doing so. If we are ready, we move on to the next lesson. We have been able to get through a whole lesson in one day, but rarely. (It takes 3rd graders a long time to write and draw!)
Which STC Unit do you and your students enjoy the most?
I think students really like the Changes unit best (we have done the Plant Growth & Development and are almost done with Changes). Students like that we are doing something and learning through inquiry-based science several times a week. Plant Growth & Development involved a lot of observation; this was good because we were able to focus on HOW to notebook.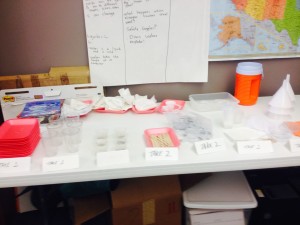 What are some challenges you face when teaching science? 
Time is the biggest challenge we face when teaching science. I also had to really teach cooperative learning and how to work with a partner or a group. This is used in so many activities in 3rd grade -- and not just in science, so it was necessary to really focus on it at the beginning of the year. We discussed having common expectations in my PLC with grades K, 1, 2, and 3 teachers so that students will be familiar with group expectations in the school.
Classroom management is not a problem at all. But, space to store materials is another issue, and my site coordinator has made a valiant effort to resolve this. Our materials are replenished for now, so this isn't a concern at this point. A strategic plan was established to find a solution to long-term replenishment.
Do you have any strategies that may be useful to other teachers? 
I always use the science notebooks to address literacy goals, such as reading and writing (this is how I get away with doing science during language arts time...). I also hold large group instruction, small group instruction, and one-on-one, differentiated instruction. It is easy to adjust activities for students who are at lower cognitive abilities or for students who need more of a challenge. Sometimes pairing students on different levels is a good idea to still meet objectives.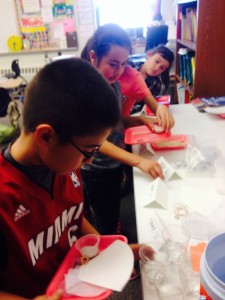 Is there anything you would like to add?
I love teaching inquiry-based science! My students are as excited about it as I am ... they are my "scientists." Parents are always asking me about the activities or letting me know that students talk about science at home. Many students go home and do activities that we did at school. It is so much fun that they don't even know they are learning! My students are eager to read about what we are doing and to write about our investigations. I have never taught anything so successful for all my students.
Related Tags