North Carolina Students Show Off Their Science Knowledge
LASER i3 students had the chance to teach board members at McDowell County Board of Education's December meeting. Using the knowledge they gained over the past school year, West Marion Elementary fifth-grade students led a Motion & Design STC Unit lesson, while Old Fort Elementary fifth-grade students focused on Microworlds.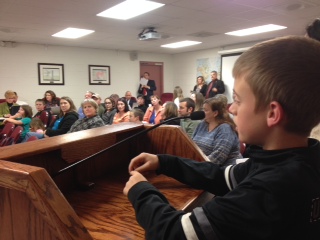 During the Motion & Design session, students and board members worked in pairs to build -- and investigate -- K'NEX model cars. Using blueprints as a guide, students and board members first assembled their vehicles and then investigated their cars' movements. Students had an opportunity to explain kinetic energy, force and motion, and how their car's rubber band propelled the car forward. A board member was the winner of the final race!
During the Microworlds sessions, seven fifth-grade students shared different ecosystems they had created. Students also encouraged board members to examine their ecosystems with microscopes.
"We put algae and duckweed in [our aquarium] because it needs new plants to survive [for oxygen]" said one student. "The other plants inside are there because the fish need them to live, water and gravel because they live in it."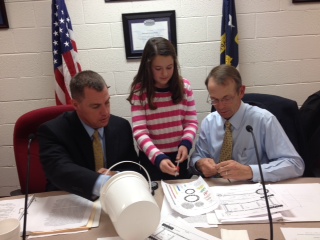 West Marion student helps McDowell County Board Members build their vehicle from the Forces of Motion STC Unit.
In an effort to show the benefits of hands-on, inquiry-based learning, West Marion teacher Renata Crawley and Old Fort teacher Wilma Harris recruited students to present on the STC Units at the December board meeting.
"[The purpose of this presentation] was to inform our community and the school board of what LASER i3 is all about," said Crawley.
Following the presentation, both Crawley and Harris agreed that board members had a solid understanding of the LASER i3 projects and its accomplishments and also fully supported the STC Unit curricula and the projects' efforts.
Related Tags