Our Summer is off to a Great Start Here at the SSEC!
We just finished our first week of LASER i3 Professional Development (PD) in Santa Fe, New Mexico! 86 science teachers, representing 17 schools and 12 districts joined us June 3-7 at Gonzales Community School for five intense days of PD.
Teachers spent the first half of the week diving deep into science content as adult learners. From first grade teachers exploring biological systems to sixth grade teachers revisiting physics formulas, participants were challenged as they became the student in inquiry-based discussions and activities.
During the second half of the week, teachers were introduced to a new Science & Technology Concepts (STC) unit that they'll implement in their classrooms this coming school year. As their students will do, teachers actively took part in every lesson, notebook assignment, and activity of their respective units. (Imagine if you will, the sheer excitement of fifth grade students observing bacteria, plant cells, and microorganisms under a compound microscope with magnifying powers of 1000X ... well, adults find it just as fascinating.) Throughout the lessons, trainers provided materials tips, shared notebooking strategies, highlighted literacy connections, and addressed common student misconceptions.
Not surprisingly, SSEC staff and teachers alike thought the week was a success. The SSEC is currently conducting its second of six weeks of PD -- this time in Cleveland County, North Carolina. Next week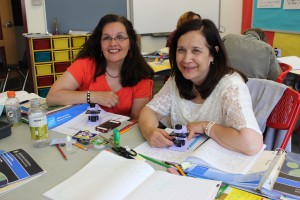 Two fifth grade teachers observing details under student microscopes in "Microworlds."
We'll be in Johnston County, North Carolina, followed by two back-to-back weeks in in Houston, Texas in July. We'll spend our last week delivering PD in Rio Rancho, New Mexico.
In 2010, the SSEC received a five-year Investing in Innovation (i3) validation grant from the U.S. Department of Education. With over $33 million from public and private funders, the SSEC is validating its LASER model for science education reform in three diverse regions: northern New Mexico, North Carolina, and Houston, Texas. Over the five years of the program, the SSEC's LASER i3 project will provide more than 125 schools with high quality professional development, science instructional materials and support, and leadership development opportunities. An estimated 80,000 students will be reached through the LASER i3 project.
Related Tags