Participants Wow'd by WestEd
Imagine this... it is early morning, and teachers, curriculum coaches, district staff, trainers, and facilitators from all over the country are gathered in a single room. During the weeks of February 25th and March 4th, 53 regional representatives from New Mexico, North Carolina, and Houston, TX, joined by Smithsonian Science Education Center (SSEC) staff and contracted trainers, gathered in Oakland, California for an intense four-day, 30 hour training hosted by WestEd and the SSEC: the 2013 LASER i3 WestEd Facilitation Academies.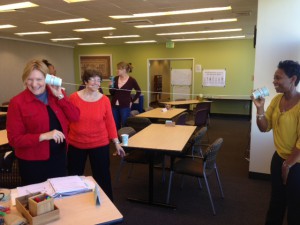 This summer, SSEC is hosting six week-long workshops for grades 1-8 science teachers in New Mexico, North Carolina, and Houston, TX. During each week-long workshop, teachers will take part in both Level 1 and Level 2 training. The 2013 LASER i3 WestEd Facilitation Academies prepared teams of contracted trainers (facilitators) and regional representatives (co-facilitators) to lead Level 2 training. Level 2 training is vastly different from Level 1. While Level 1 training aims to impart the "how to teach the STC kits" knowledge, the focus of Level 2 training is increasing teachers' science content knowledge.
Since the beginning of the LASER i3 program, the SSEC has worked closely with WestEd to develop STC-Unit specific training modules that improve teachers' science pedagogy and content knowledge. The expectation is that by improving teachers' knowledge, students' learning will also improve. In a recent study of this type of training, "students whose teachers participated in the professional development outperformed comparable students by more than 40 percent."
After the many hours of collaborating, exploring, learning, and questioning, what did attendees have to say about the LASER i3 Facilitation Academy?
Attendees at the Facilitation Academies had many amazing things to say about the training. One New Mexico teacher said, "This is one of the few trainings I have attended that made writing 5 days of lesson plans worth the effort."
A North Carolina teacher was as equally impressed, "WOW it [the Facilitation Academies] was an educational learning experience that goes beyond the classroom environment." Another teacher from North Carolina agreed, "I am always so impressed by WestEd's trainings. They are among the best I have ever been a part of!"
The same sentiment resonated with Houston teachers. According to one, "The training was well delivered and included teaching and learning strategies that are useful and will support classroom teachers. "
So, the attendees enjoyed the Facilitation Academy, great! But, did they "get it?" In other words, did we adequately prepare and engage our co-facilitators?
Yes, according to another New Mexico teacher, "I can't wait to share it with the region in June."
One Houston attendee also agreed, saying, "The most meaningful part of the training included the higher level of integration of science content, e.g., biological and earth systems. This training provided meaningful and authentic science staff development to teachers and coordinators. Attendees should feel more than adequate [to] deliver the full integration of LASER kits."
This summer, all LASER i3 teachers will benefit from the hard work and dedication of our facilitators and co-facilitators. We hope that all LASER i3 teachers will have the same experience a New Mexico teacher reported having: "This experience developed my pedagogical content knowledge of science through inquiry based learning that was educational, collaborative and interesting. I was able to explore my own level of understandings and examine any misconceptions in a respectful environment that allowed discussions and exploration."
Related Tags
About the Author