Passion Will Make The Difference: North Carolina Implementation Institute
A little over two years ago, more than 90 participants from the seven LASER i3 North Carolina districts gathered in Greensboro, NC for an intensive 5 1/2-day Strategic Planning Institute (SPI). During their time together, seven district leadership teams created comprehensive strategic plans aimed at transforming science education in their districts.
Fast-forward to the Implementation Institute on October 21-22, and the scene was very similar. Teachers, site coordinators, principals, district administrators, superintendents, and community leaders gathered in Research Triangle Park, NC to discuss what they could do to ensure their students have access to high-quality science instruction. But their conversation has changed.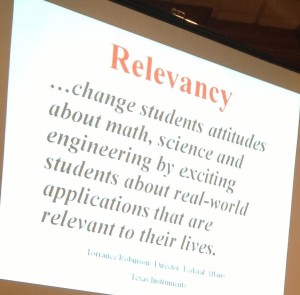 Over the past several years, the Smithsonian Science Education Center's LASER i3 project has provided districts with high-quality, inquiry-based curriculum, teacher professional development, materials support, and leadership support -- implementing the LASER model. We're in the fourth year of the five year project, and now, the question that teams were trying to answer was, "how do we keep this going when the LASER i3 project is over?" The goal of this Implementation Institute was to give teams the tools and resources to help answer that question.
The institute began with a welcome and introduction by LASER i3 Program Manager, Patty Elder and North Carolina SMT Education Center President & CEO, Sam Houston. Mike Benner -- the 2011 SPI facilitator -- followed and reviewed the goals of the institute. Throughout the two-day institute, he reminded participants about how far they had come since that initial meeting.
Teams spent the majority of their time alternating between working on their strategic plans and attending various presentations from leaders in the field. Among the presenters, Alleghany County Schools Superintendent, Jeff Cox offered his insight as a district leader; having implemented a similar science program in his district, he spoke to how he overcame similar challenges. South Carolina Coalition for Math and Science Executive Director, Tom Peters and Center for Inquiry-Based Learning Executive Director, Todd Guentensberger discussed materials and how to support and finance such a costly endeavor. Closing out the presentations, consultant for school/business partnerships, Jay Engeln from Silverthorne, CO presented a how-to guide on school-business partnerships and outlined strategies to maximize long-term, sustainable partnerships for schools.
The institute ended with all seven teams reporting on what they accomplished during their time together. Each team outlined 30, 60, and 180 day goals with specific action steps to achieve these goals. Some of the same themes seemed to repeat throughout the presentations: partnerships, sustainability, and 21st century global skills. Two districts even left with a comprehensive plan on how to fund the program beyond the LASER i3 project.
Jay Engeln gave the North Carolina teams this advice, "Don't let barriers get in the way. Your passion will make the difference." The passion for educating students was palpable during the LASER i3 North Carolina Implementation Institute. We are all eager to see the great things to come in North Carolina!
Related Tags