Science Education Institutes for Leadership Development and Strategic Planning Overview
The Smithsonian Science Education Center (formerly National Science Resources Center) was founded in 1985 to improve the K-12 teaching and learning of science for all students. With this mission in mind, the SSEC developed the Science Education Strategic Planning Institutes to help educational leadership at all levels understand and implement the LASER Model in their localities. Since 1989, over 70 Institutes have been held to guide leadership teams through the development of a five-year strategic plan. This plan incorporates research and best practices on implementing hands-on, inquiry-centered science programs in a systemic and sustainable way from kindergarten to twelfth grade.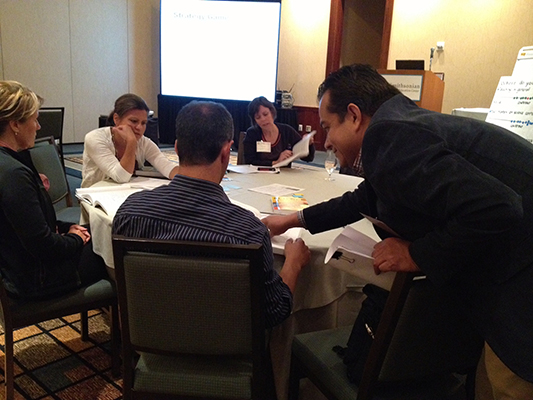 Over 885 leadership teams have worked with us to better the science education programs in their home country, state, region, and district. Teams have represented 48 states, the District of Columbia and the U.S. territories Puerto Rico and Guam. 63 foreign countries have participated as well, coming from countries such as China, South Korea, Namibia, Mexico, Chile, Canada, Sweden, and others.
The SSEC's annual flagship institute, the International Strategic Planning Instititute (SPI), will be held July 27-August 1, 2014 at the Westin Alexandria, just outside of Washington, DC.
Want to know what an International SPI is like before you register? Then take a look at what happened at the 2013 International SPI! 
2013 International SPI Overview
The SSEC hosted its 2013 International Science Education Institute for Leadership Development and Strategic Planning on July 28-August 2, 2013. Seventy-two education leaders and partners representing 14 school districts convened at this institute for a week of intensive planning and rigorous seminars just outside of Washington, DC. These individuals together with our team of handpicked faculty members worked together to identify the resources they need to revitalize their science education programs.
2013 International K-12 Science Education Institute for Leadership Development and Strategic Planning: What an Adventure!
As the temperature cools and crowds slowly begin to leave our nation's capital, one thing is certain (OK, maybe two things are certain): summer is nearly over, and the SSEC's 2013 International K-12 Science Education Institute for Leadership Development and Strategic Planning has come to a close. This year at the 69th institute, the SSEC hosted 72 people representing 14 teams from 5 states across the US and a special delegation from Mexico.They all joined us in Alexandria, VA, for the purpose of creating a strategic plan to transform science education in their districts based on the SSEC's LASER Model (Leadership and Assistance for Science Education Reform). Read more
Related Tags
About the Author