Talking Science: Where STEM Literacy and Language Acquisition Meet
New learning standards are designed to keep up with the changing needs of new generations of schoolchildren. By that measure, New York University Professor Okhee Lee sees the Next Generation Science Standards (NGSS) as a success.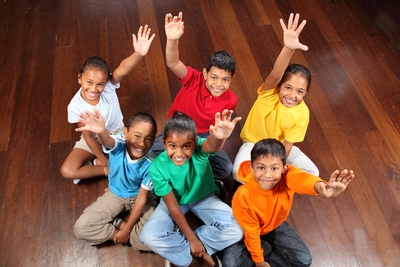 Professor Lee has been heavily involved in the creation of the NGSS. During my interview with her, Professor Lee talked about her two greatest (scholarly!) passions: English language acquisition and science education. According to Lee, the NGSS will be the key to producing the types of habits and practices that all students need to be successful and informed citizens; these are just the right standards, coming at just the right time. 
Our Classrooms are Increasing in Diversity
Across the United States, student populations are increasingly diverse. According to the 2010 census, our school-age population is comprised of 45% ethnic and racial minorities. In 2022, that number will be 50%. It is important to realize that this means our classrooms are linguistically diverse as well: currently, 21% of our students speak other languages at home.
The problem is that many of these students are not having their language needs met at school. While 11% of students are enrolled in English for Speakers of Other Languages (ESoL) programs, another 11% of students with language needs are under-monitored. This means that students many be in need of ESoL services, but they are not being provided access to these services. ESoL services require highly trained educators that specialize in language acquisition to work in conjunction with classroom teachers, and many schools and districts have limited access to these professionals.
This lack of access to ESoL programs is surely troubling for the under-served students and families, but it is troubling for the general population as well. How many students with possible futures as brilliant chemists or innovative engineers are lost to us simply because language is getting in the way of our ability to understand or assess all they know? How much vital talent are we losing? What happens to the development of these students' minds when they are frustrated with receiving mediocre grades because we don't use the right tools to get at their understanding? Given these issues, the achievement gap (especially in the STEM fields) persists.
Language is More than Vocabulary--It is a Discourse
For Professor Lee, the issues we explored above can be addressed via the increasing focus on discourse in the Common Core Standards and now the NGSS. "Discourse" is a way of saying "the way we talk." For example, I have a way of speaking to my two small dogs that is (fortunately) very different from the way I talk when presenting at a professional conference. Those are two very different discourses I engage in, where appropriate. Likewise, when I talk to my parents my sentences are a mix of English and Polish words and it isn't unusual for many people in their Chicago neighborhood to be familiar with that discourse. When I come back to the Washington D.C. area, however, I don't expect anyone to be familiar with that discourse.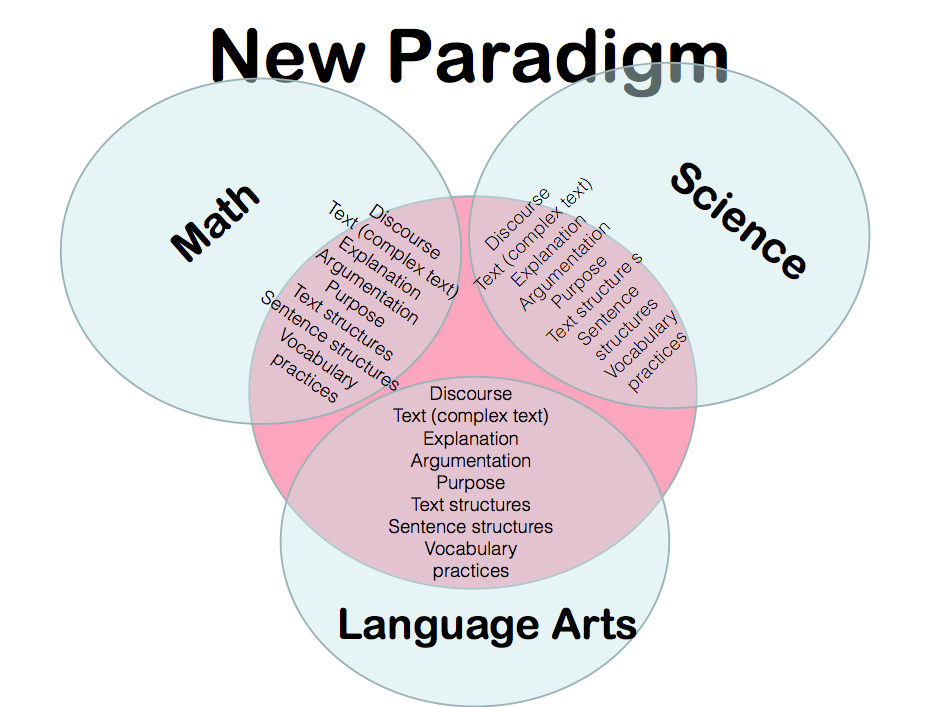 Different professions have different discourses as well. As educators, we know that our conversations with colleagues can be so jargon-laden that people from the non-teaching world cannot follow along.
"Did you talk about Common Core during your PLC? I've got an IEP during prep."  
The same is true for scientists, engineers, people in medical professions, and so on. They have a way of speaking--a discourse--that shapes the way they think about the world. And just as it takes practice to become fluent in a new language, it takes practice to become fluent in a discourse. The more you practice, the more fluent you get. The more our students learn to "talk science," the better they become at it.
It is important at this point to pause and be clear that the discourse of science isn't the same things as scientific vocabulary. This is where we've historically had trouble educating students with language needs in content areas. We've focused on building their content vocabulary, but found that when it came time for students to use that vocabulary to express new ideas they've learned or collaborate with their peers, the communication barriers persisted.
Knowing how to express yourself in a content area is about more than vocabulary. Language is about more than vocabulary. It is a discourse. 
Next Generation Science Standards and Scientific Discourse
The NGSS are different from previous science standards in their emphasis on the practices of scientists and engineers. Practices include skills like using mathematical models, thinking abstractly, argumentation, explanation, and communication across disciplines.
All of these practice-driven items are heavily focused on language. This means that students who are learning English will have increased opportunity to use academic, content-based English. Practice with a discourse will go hand-in-hand with practice in a content area. One of the implications here is that a subject-matter teacher can make a positive impact on a student's academic language acquisition, even if the student is under-served by an ESoL professional. 
The NGSS also promote students' use of multiple modes (e.g. visual, graphical, and mathematical) to represent their knowledge. Therefore, English Language Learners (ELL) will be able to use visual or computational methods to demonstrate their understanding of the material while their vocabulary and grammar get a chance to catch up with their ideas.
For science teachers, the good news is that they will be able to best serve their ELL students by doing what they do best: being content experts. English language acquisition is not only about grammar and vocabulary acquisition. Neither of those things matter when context is absent. Science teachers play an important role in the child's overall language development by providing the context of science and engineering.
Professor Lee points out that this language-based approach to learning science benefits many other students in addition to ELLs. Many learning disabilities have their roots in language problems or deficits and a growing number of students speak non-standard dialects. All of these students will increase their chances for success by practicing thinking, doing, and talking like scientists and engineers.
With our increasingly diverse classrooms and students' continuing needs for language development, the language focus of NGSS is coming at just the right time for today's students and tomorrow's doctors, politicians, moms, engineers, and citizens.  
Related Tags
About the Author