Watch Their Enthusiastic Minds at Work
When parents first approached Four Oaks Elementary School principal David Pearce about starting an after-school science club, the North Carolina parents estimated that 40 students would be interested. Shortly after Students learn about animal peltsannouncing the new science club, more than 160 students signed up. The anticipated small gathering of a few students quickly turned into nine separate groups: five K-2 Green Kids' Clubs, two 3-5 Green Kids' Clubs, and two Engineering Clubs. During the biweekly meetings, students, with the help of parents and teachers, build on what they are learning in the classroom with even more hands-on activities and experiments. So far, students have planted seeds, built compost piles, learned how to create frozen mixtures with household ingredients, and engaged in many more fun science activities.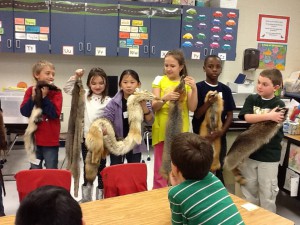 Science Club
"My child was excited about every Science Club meeting. He loved the hands on activities and experiments," said one parent. "He also loved working with students from other classrooms and wanted to replicate the activities at home."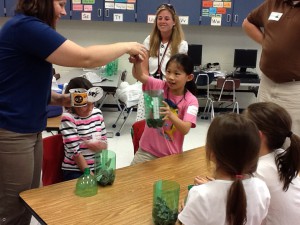 The Science Clubs have also involved the community. Club leaders have recruited local community specialists to teach students about various areas in science and technology. In one club meeting, a specialist from the Rudolph Howell & Son Environmental Learning Center talked to the students about wildlife found in Eastern North Carolina. The guest brought pelts of many different animals, including fox, river otters, minks, and wolves. Students felt the different types of fur and learned about identifying markers on each creature. "It was amazing for me to watch their enthusiastic minds at work," said a parent volunteer.
Four Oaks Elementary Science Clubs are an exciting example of how students, parents, and teachers have embraced the LASER i3 project and how they have created even more opportunities to incorporate science into students' lives.
"We may have a doctor, a biologist, a nurse or a veterinarian in our group because of what they have learned this year," said one parent volunteer. "Seeds are planted when we are young [and] make us who we are. It is great that kids are getting this exposure as science will always be a viable field."
Related Tags
About the Author