Discover, Understand, and Act Through WhatsApp: Disseminating of COVID-19! How Can I Protect Myself and Others? to Rural Communities in Mexico
In April and May of 2020 the Smithsonian Science Education Center (SSEC) in collaboration with the World Health Organization and InterAcadamy Partnership developed the community research guide COVID-19! How Can I Protect Myself and Others? as a rapid response to the COVID-19 pandemic and the need for high-quality STEM education for young people.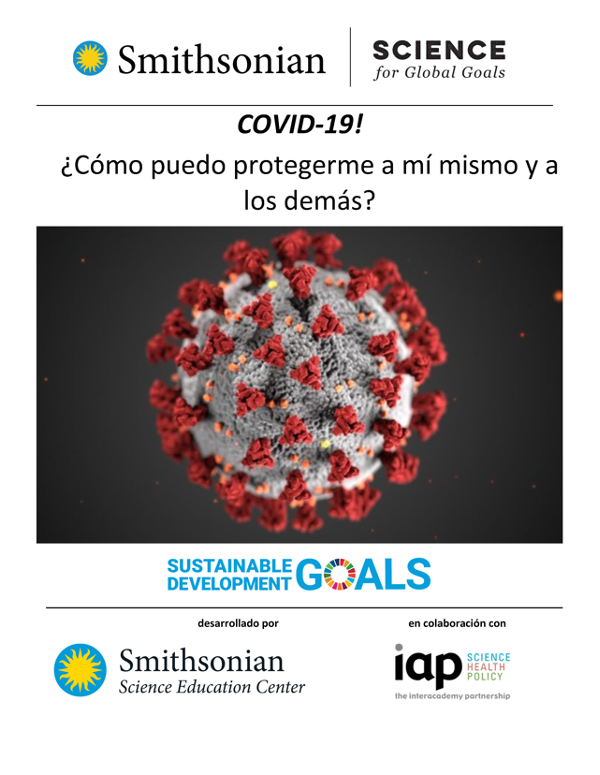 COVID-19! How Can I Protect Myself and Others? is translated into 25 languages including Spanish. Smithsonian Science Education Center
Once COVID-19! How Can I Protect Myself and Others? development finished, the focus turned to bringing the guide to students around the globe in creative, responsive ways. The SSEC approached the process of dissemination through existing partnerships with organizations across the world to reach as many learners as possible. One of these dissemination partners was Innovation for Science Education (INNOVEC) based in Mexico.
INNOVEC is a Mexican non-profit founded in 2002. They support young people in public schools to develop scientific understanding, skills, and attitudes that help them to make informed decisions about their lives and their relationship to the environment, and ultimately enable them to act both individually and collectively to ensure better quality of life for themselves and their families, and to be contributing members to 21st century society.
In July of 2020, INNOVEC and the SSEC co-hosted a Spanish language webinar presenting the guide, teaching strategies aligned to each task, and foundational information about COVID-19. INNOVEC then adapted the COVID-19! guide into short videos and technical sheets for distribution through WhatsApp. The WhatsApp content described the research guide material and process for each activity. WhatsApp was also a platform for communications, technical support, and monitoring progress.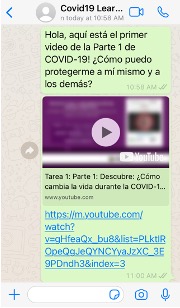 COVID-19! How Can I Protect Myself and Others? dissemination via WhatsApp. Smithsonian Science Education Center
With schools closed and students learning from home with differing levels of digital connectivity and technical capabilities INNOVEC realized that dissemination of COVID-19! How Can I Protect Myself and Others? needed to be creative and nimble. The community research guide needed to be accessible to intergenerational homes without a teacher, to rural communities as well as urban, and to those who did not have computer or internet access. The result was dissemination that incorporated webinars and the free social media messaging app WhatsApp.
INNOVEC created 21 technical sheets containing all of the procedure for each activity, along with guiding questions to generate student interest, and supporting material from the community research guide. These were distributed through WhatsApp.

Three technical sheets submitted by learners. The center sheet is a 12-year-old girl's reflection on the Task 1 question What is happening in the world right now? She says, "The life has changes because the coronavirus arrives, almost nobody is out, I do understand why this is happening, this happens for not having hygiene. My fear is that my family and I get sick, I study virtually, and I send my assignments through photos. I must use a mask, antibacterial gel and wash my hands daily." INNOVEC
INNOVEC grouped learners into 11 groups and sent them new materials on Mondays and Thursdays. Adults could easily take a photo of learners' work, or of learners participating in activities, and share them directly with the group. INNOVEC received these images as part of their data collection process. INNOVEC then organized a webinar at the mid-way point and at the end of the project to support the learners.
In Task 1: What is happening in the world right now? learners read about what is happening around them. They investigated identity properties that influence their decision making and began journals in which they recorded questions and answers as they progressed through the research guide.

Learners submitted photographs of Task 1 identity maps and journals. INNOVEC
Task 2: How can keeping distance from others help? asked students to investigate social distancing and how much water could be sprayed onto a wall from 1 meter compared to 50 centimeters.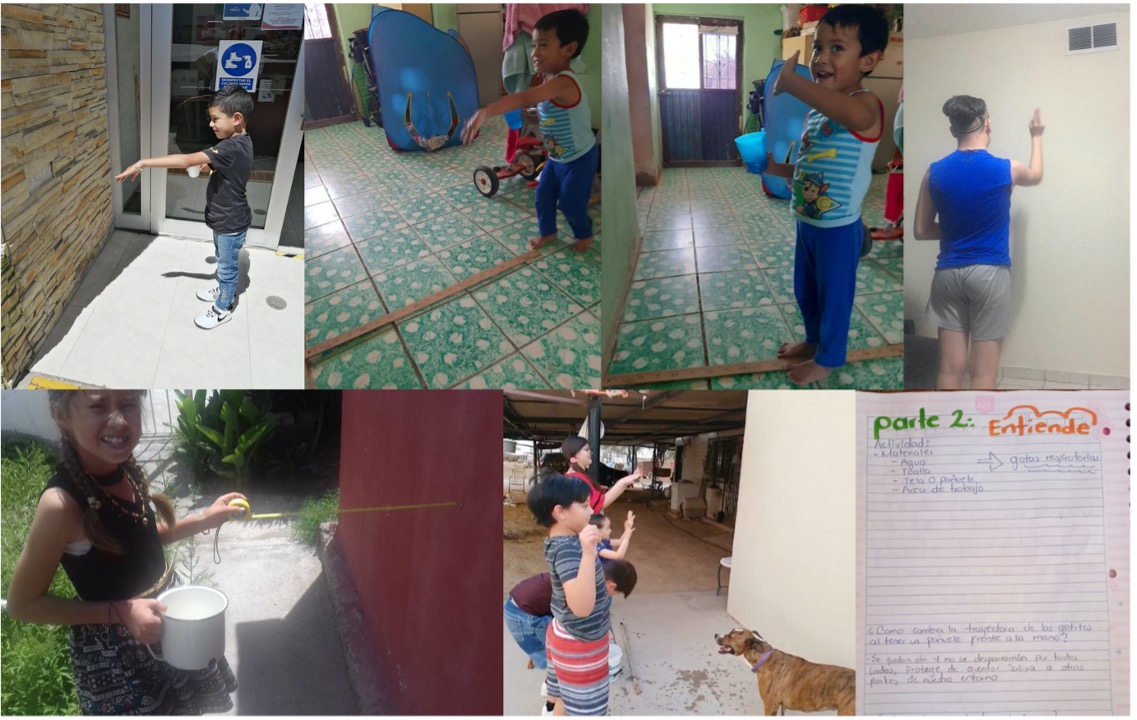 Learners submitted photos and videos of themselves completing the Understand part of Task 2 seeing how far water droplets can go as well as journal entries with their Task 2 answers. INNOVEC
In Task 3: How can covering our noses and mouths help protect us? learners built on their knowledge of water droplet spread by investigating masks. They used cloth to model masks and determine how a barrier changed how far the water droplets traveled.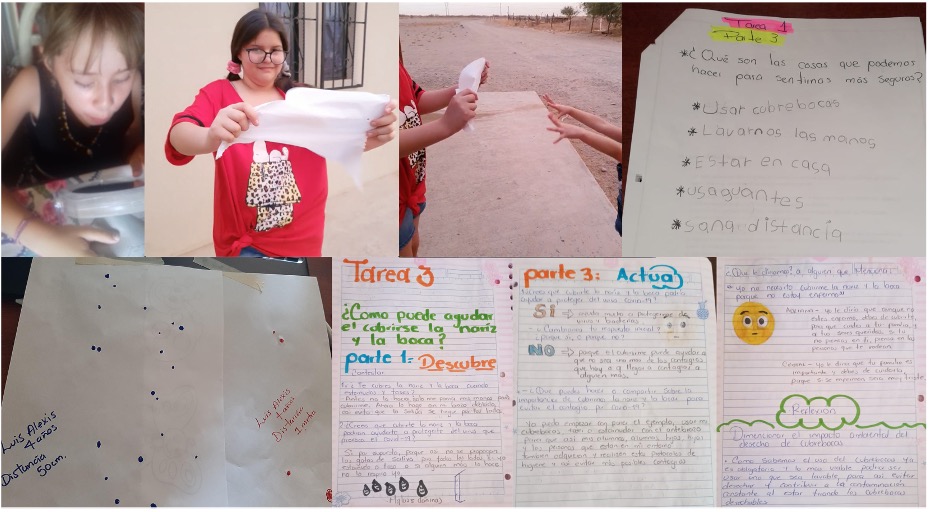 Learners submitted photos and videos of their investigation of masks and their Task 3 journals. INNOVEC
Task 4: How can washing our hands help protect us? had the learners model the COVID-19 virus as an oil and wash their hands with soap and water to remove the oil. Leaners discovered how washing their hands could destroy the COVID-19 virus.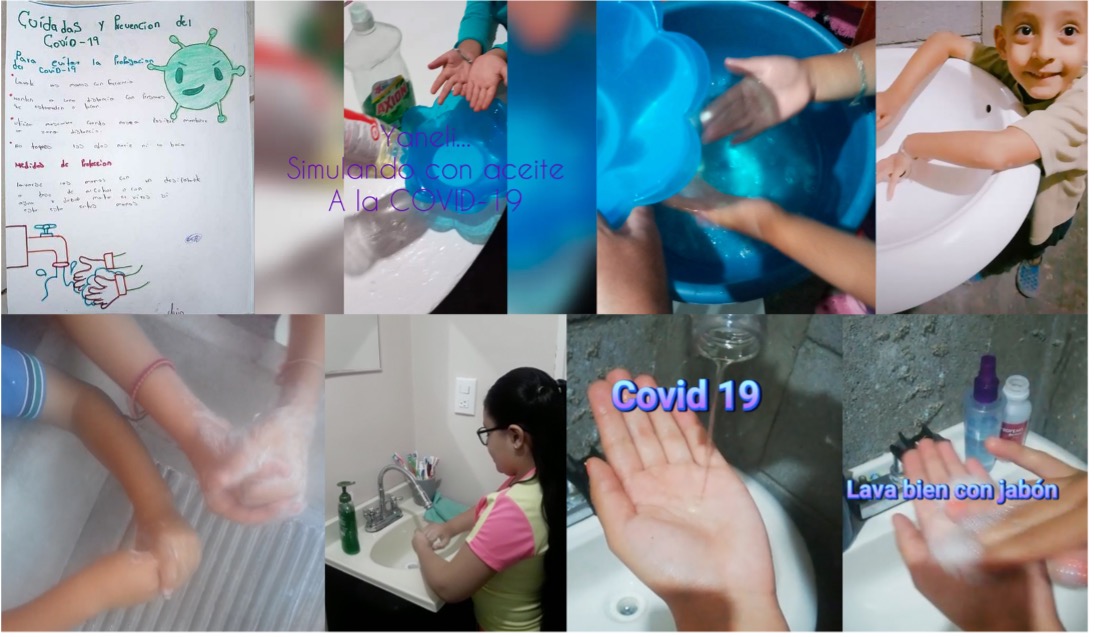 For Task 4 learners submitted hand washing videos and posters. Some of the videos included singing, music and annotation. INNOVEC
In Task 5: How is COVID-19 impacting families and communities? Learners discovered contact tracing and listed who they were in contact with. Learners described what would change if someone in their household contracted COVID-19 and journaled about their findings.

Learners submitted photos of themselves journaling for Task 5. INNOVEC and Smithsonian Science Education Center
In Task 6: How can staying informed about the problem help? learners interviewed family members on where they were getting information on COVID-19. Learners then discovered how to identify trustworthy information and journaled about what they have learned so far.
In the final task, Task 7: What actions can I take right now? learners created an integrated action plan for how to keep their community safe. The learners journaled their ideas and then created brochures, posters, and TikTok videos with songs to distribute information about COVID-19 to family, friends, and their communities.
COVID-19! How Can I Protect Myself and Others? is designed to be undertaken by young people at home with their households as an intergenerational project, though the activities are also appropriate for small groups, classrooms or after school settings. The guide lends itself to widespread distribution through various technological means and INNOVEC's use of WhatsApp yielded great response with learners eager to show their work.
Some educators continued to use the community research guide with their students as the school year began in September. One teacher extended the COVID-19 learning and introduced a transdisciplinary drawing competition. No matter how simple or detailed the learner's drawing is, it demonstrates an increased understanding of COVID-19, and how to protect themselves and others.
In total 42 communities from five Mexican states participated in this project and at least some student artifacts were collected from 54 participants. INNOVEC's model of disseminating COVID-19! How Can I Protect Myself and Others? to rural communities in Mexico through WhatsApp allowed young people to process their emotions, keep themselves, their families and their communities safe, and be part of the alliance to act on this large global crisis.