Who Can You Meet Behind The Scenes at Smithsonian?
This summer we will be conducting three professional development workshops together known as the Smithsonian Science Education Academies for Teachers. These professional development opportunities are special for a lot of reasons, one of which is the opportunity to work with passionate scientists, researchers, and curators. These men and women are not only subject specialists, they are enthusiastic communicators and love to connect with kindred science spirits!
Here are some of the folks that will be working with us:
Gary Hevel : Biodiversity Academy (June 23-28)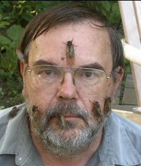 At the Smithsonian, Gary Hevel is the public point-of-contact for the Entomology Department. He produced their monthly newsletter, and is routinely involved in collections maintenance, curation and loans of beetles from the collection. He has led or joined insect collecting trips to 24 countries and territories, and has had a dozen insect species named for him. One of his latest research efforts was a four-year survey of insects in his back yard, resulting in an estimated 4,000 different species. This effort attracted the attention of a public television company in Japan, resulting in the documentary "Bug-Hunter," which was broadcast nationally in Japan in December of that year. This documentary has recently been updated to an English version, appearing as "Insect Microcosm" on the Smithsonian Channel. Mr. Hevel has also appeared in television, radio, and newspaper interviews during the 2004 emergence of Brood X (ten) of the periodical cicadas.
Cari Corrigan : Earth's History and Global Climate (July 21-16)
Cari Corrigan is the curator of Antarctic Meteorites in the Division of Meteorites within the Department of Mineral Sciences, US National Museum of Natural History. Her principal research interests include igneous and impact melted meteorites from the Moon, Mars and asteroids to understand the geologic processes that took place on those planetary bodies, as well as studying iron meteorites, which represent the cores of asteroids, and give us the only physical insight we have into the Earth's core. Her expertise is petrology and geochemistry, and she regularly uses the Department of Mineral Sciences scanning electron microscope (SEM) and electron microprobe to facilitate her research and to fulfill her roll in classifying all of the meteorites returned from Antarctica by the US program. She received her B.S. and M.S. degrees from Michigan State University and her Ph.D. from Case Western Reserve University in 2004. After spending two years at the Smithsonian as a post-doctoral researcher, and two more at the Johns Hopkins University Applied Physics Laboratory, she returned to the Smithsonian in 2008.
Steven Madewell: Energy: Past, Present, and Future (July 7-12)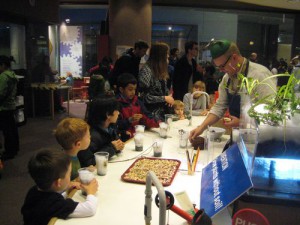 Steven Madewell has been a Smithsonian educator since 2001, and is currently the Exhibits Coordinator for the National Museum of American History's Lemelson Center. He has developed and presented teacher professional development workshops for science and history teachers, as well interdisciplinary educational programs for Spark!Lab, the Hands On Science Center, and other informal learning centers. Steven specializes in recreating historic science experiments for inquiry-based learning. He studied Biochemistry at the University of Oklahoma, and Pharmacy at Shenandoah University in Virginia.
About the Author