5 Science Facts About The U.S. Constitution
On this Constitution Day we wanted to recognize the fascinating science behind preserving one of America's greatest documents. Constitution Day is celebrated every September 17 to recognize the signing of the United States Constitution.
"Constitution Day commemorates the formation and signing of the U.S. Constitution by thirty-nine brave men on September 17, 1787, recognizing all who, are born in the U.S. or by naturalization, have become citizens." -- www.constitutionday.com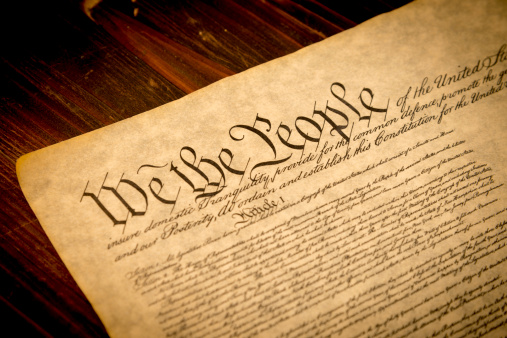 Image from Thinkstock
Of course, we are all aware of the significance of this piece of American history, but did you know that this document also has a connection to NASA? Yes, the National Aeronautics and Space Administration. We compiled a few science facts about preserving the Constitution and NASA's role from NASA's Destination TomorrowTM video series.
In the 1950s, the Constitution was placed in a glass encasement that was filled with inert helium and sealed. The inert helium was added to protect the document from the chemical corrosiveness of air.
Small white spots began to unexpectedly appear on the Constitution. Perplexed, the National Archives enlisted the help of NASA to find a solution. NASA's atmospheric scientists would be able to determine the atmosphere within the encasement without opening it or harming the precious document inside. 
Laser spectroscopy was used to determine the background gas in the encasement. Scientists discovered that the inert helium was still there. This dispelled the initial idea that the helium had leaked out and was no longer there to protect the document. 
Relative humidity within the encasement was more than twice the amount needed to preserve the document. The humidity in Washington, DC, was very high on the day the document was encased, and excess water vapor was absorbed from the air by the backing paper the Constitution was placed on. The water vapor had no way to escape and allowed for deterioration of the Constitution to occur. 
Scientists discovered that the white spots were alkaline chemicals that were pulled out of the glass because of the presence of high levels of water vapor.
No worries, all is well now. The Constitution was placed in a new encasement and is currently on display at the National Archives in Washington, DC. You can learn more about NASA's role in preserving the Constitution in the NASA's Destination TomorrowTM video by clicking here.
Also be sure to check out how conservators today preserved the Transmittal Page of the Constitution in this video from the National Archives. 
Related Tags