August & September in Review
Pathways to Convergence
Smithsonian Science Education Center (SSEC) Director, Dr. Carol O'Donnell, co-led an encore session of "Pathways to Convergence Education" virtually and in-person at the U.S. Department of Education (ED). Attendees had the opportunity to learn about this pedagogical style that promotes scientific and systems thinking, student engagement, and innovative solution-creating and how they can implement it in their educational settings. In addition to O'Donnell and two federal agency partners at ED and the U.S. Patent and Trade Office, panelists included classroom STEAM educators practicing convergence education who shared promising practices to engage today's youth. 600 participants attended this session live; over 2000 registered to watch it asynchronously.
Watch the sessions here: https://mediasite.ed.gov/webcast/Play/c19d32428a53436084e7af27c09e60291d
2022 Scifest Africa Science Fair
On September 13th O'Donnell sat on a panel titled "Strengthening the role of basic science in building sustainable solutions and resilience against global problems" at the 2022 Scifest Africa Science Fair. Starting in 1996, Scifest Africa has been a doorway into the world of STEMI for the people of South Africa. Since its inception, Scifest Africa has hosted hundreds of international speakers and workshop leaders, has enlightened and entertained well over a million attendees of all ages, becoming the largest of such an event on the continent. The theme for 2022 was "Back to the Basics", inspired by UNESCO's "International Year of Basic Sciences for Sustainable Development 2022". The panel highlighting the crucial role of basic sciences (physics, chemistry, math & biology) for sustainable development and emphasizing their contributions to the achievement of the Sustainable Development Goals.
Leaders on Purpose
O'Donnell presented at the 5th Leaders on Purpose CEO Summit held at the Javits Center in New York, NY on September 22nd as part a UN General Assembly (UNGA) side event. The Leaders on Purpose CEO Summit is the largest annual event of the private sector focused on purpose-centered business transformation for systems change towards the purpose economy. Hosted in collaboration with leadership from the UN, the summit's agenda is set by CEOs for leaders of all sectors. O'Donnell's session was titled "Talent on Purpose: Unleashing Purpose-Centered Talent through K-12 Education for Sustainable Development" and focused on how organizations can unleash talent through early education to transform society to prepare for a more sustainable future. 250 CEO's and education leaders attended this conference.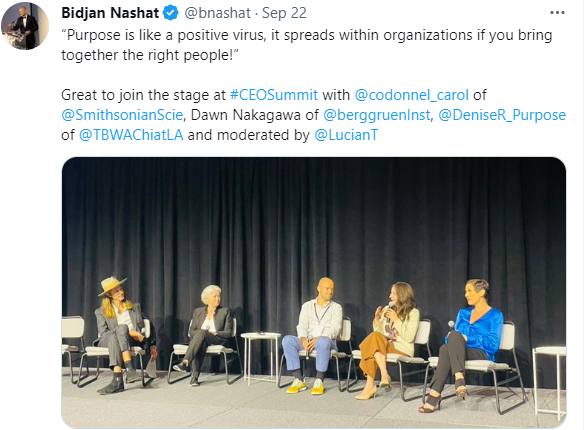 White House Conference on Hunger, Nutrition and Health
O'Donnell, along with SSEC's Logan Schmidt and Alexa Mogck, in collaboration with the U.S. Department of Education's Institute of Education Sciences STEM Next Afterschool and Summer Learning Fellow, Dr. Holly Miller, provided a satellite webinar event as part of the White House Conference on Hunger, Nutrition, and Health. Focused on the Smithsonian Science for Global Goals project's Food! How do we ensure good nutrition for all? community research guide, this webinar provided educators with ways to support students in investigating issues of food and nutritional security in their own communities, and in communities across the globe. The Food! guide brings together science and engineering education with social studies, health and civics to engage students in mapping food access points in their own communities, analyzing food and nutritional guidelines from around the world, exploring recipes and ingredients, and engineering better food storage containers, among other activities. Through better understanding the activities and pedagogy of the guide, this session provided an opportunity for educators to think about how they can implement this content in their own settings. This included hearing from the U.S. Department of Education's Institute of Education Sciences on how the guide might be used in out-of-school time programs to support wellness and academic achievement. This session had 32 live attendees who through self-reported data directly impacted 1,583,745 students and 14,973 teachers. A recording of the event was sent to all registrants and can be accessed at this link. 
Credits: Kelly J Day, Jorge Valdes and Bidjan Nashat @bnashat
Related Tags
About the Author