Good Thinking! — Introducing: Gummerson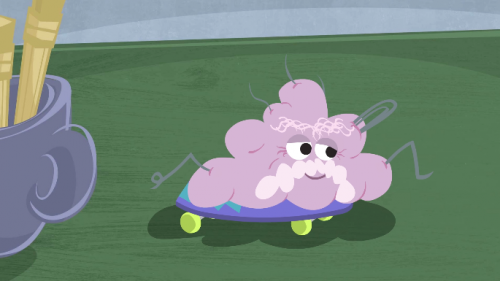 "Here's the deal, Jack. Children need to find ways to make sense of the world around them -- we all do." --Gummerson
If you've seen Good Thinking!, SSEC's new web series on "the science of teaching science", you've probably seen Gummerson -- and perhaps wondered who (or what), exactly, he is?
A surprisingly lively piece of ABC (already-been-chewed) gum, Gummerson has been sticking around Ms. Reyes' classroom for a long time. From his vantage point under the desk, he's learned a lot about what works and what doesn't when it comes to pedagogical strategies. FableVision Creative Director Leigh Hallisey explains how this mythology developed:
"Once we agreed that the series needed to be set in the classroom, we started to think about what things would realistically make sense in that environment, before adding the absurd twist. We were talking about the need for that wise mentor character who could help guide the teacher without being a patronizing know-it-all. It needed to be someone (or something) who had been around for a while and seen students come and go throughout the years, and who really understood how they think and interpret information. We were all yelling out ideas for objects that would be hanging out in a classroom for years--erasers, chalk, stapler, etc.-- and I think it was Gary Goldberger [FableVision's president] who yelled out 'gum!' As soon as he said it, I had an image of a piece of hardened, fuzzy, chewed piece of gum stuck under a desk since the Cold War.  It was definitely kind of disgusting, but the randomness and unexpectedness appealed to all of us."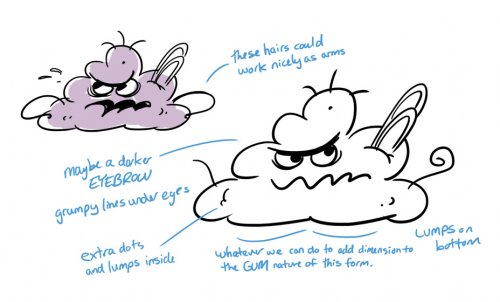 As the character took (admittedly amorphous) shape, he developed into a bit of a curmudgeon (when it comes to dispelling myths and misconceptions), but also a straight-shooter, who distills valuable and relevant information from research articles into plain English. As Leigh elaborates:
"Justin Shanes, our brilliant main writer for the series, wrote Gummerson as this grizzled but lovable guy that's a total smarty pants, but who tempers that with his super-cliched down-home sayings. His interactions with the Narrator, who he thinks is a total blowhard, are priceless. And the voice actor made Gummerson sound like a cross between Wiford Brimley and Foghorn Leghorn, which is exactly right. Gummerson often steals the show... we might need to get him an agent and his own series."
My personal favorite aspect of Gummerson is his near-limitless shape-shifting abilities. As the lead "classroom guide," he's responsible for explaining a lot of the most complicated content, so his talent for providing narration and illustration simultaneously is without parallel.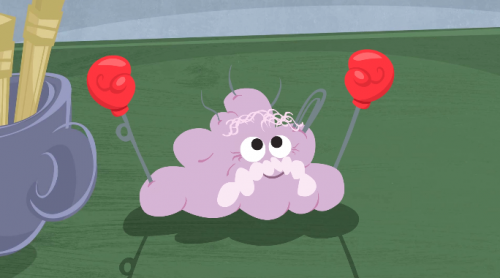 Meet Gummerson for yourself by catching up on: Conceptual Change: How New Ideas Take Root, and Sending "Learning Styles" Out of Style, and stay tuned (by subscribing to our YouTube channel) for more Good Thinking!  New episodes and characters are coming soon!  
Related Tags
About the Author