July in Review
The Global Classroom
The Global Classroom launched by Scarisbrick Hall School in Lancashire UK in partnership with the World Health Organization and UNICEF aims to bring together the world's school children across the globe to connect and have a voice during the COVID-19 global pandemic. This monthly series features world-recognized speakers, celebrities and distinguished guests including Bear Grylls, one of the most recognized faces in terms of survival and outdoor adventure, Captain Dave Henson OBE who helped to found the Invictus Games which is also championed by Prince Harry, multi-music award winner, Heather Small who achieved massive success with M People and the mother of Lady Gaga, Cynthia Germanotta, Goodwill Ambassador for Mental Health from the WHO. Smithsonian Science Education Center Director, Dr. Carol O'Donnell, Division Director for Curriculum & Communications, Dr. Brian Mandell, and Program Manager, Ms. Katherine Blanchard, use their "teacher" voices to engage the students who log on in active hands-on learning. Over 14,000 students participate live in each Global Classroom event.
GirlUp!
O'Donnell, and Curriculum Developer, Logan Schmidt, presented at the GirlUp! event. The workshop purpose to is enhance knowledge on the science of COVID-19 and how to best protect yourself and others. Attendees were able to gain an understanding of what's happening in the world right now, how the virus spreads, how the virus disproportionately affects different communities, and how staying informed about COVID-19 can make a difference.
STEM Leadership Alliance Summit
O'Donnell co-presented twice at the STEM Leadership Alliance Summit 2020 held virtually July 13th – 16th.  The STEM Leadership Alliance aims to disrupt and revolutionize STEM education to shape tomorrow's workforce and change the world.
O'Donnell & Shelina Ramnarine, Senior Manager, Janssen Business Development Diagnostics and Emerging Technologies
Abstract: In 2014, students of color outnumbered white students in public schools for the first time. By 2060, the percent change in the black population for students under the age of 18 is expected to increase in the US by 15.2 % and by 153.7% for those who report two or more races (relative to a decline of 23.8% in the white population of students under the age of 18). Yet the teaching workforce is predominantly white and female and the ratio of teachers of color to students of color today is 1 to 50. Research by Redding (2019) clearly shows that students' academic performance, self-worth, and behavior improve when they are in a classroom with teachers where there is a demographic match between teachers and students. In this session, the Director of the Smithsonian Science Education Center will focus on how schools and school districts can develop action plans to recruit and retain a more diverse K-12 STEM teaching workforce and make certain that all students from every race have access to teachers who look like them.  
O'Donnell & Erika Wakefield, Senior Director Customer Insights, Johnson & Johnson Supply Chain
Abstract: In 2020, educators, families and children around the globe are facing "two pandemics"— one that focuses on COVID-19 and its devastating effects on the most vulnerable populations impacted not only by the virus but by the digital divide, and the other that focuses on systemic institutional racism which has led to a disproportionately white male STEM workforce. According to Dr. Lisa Cooper, minority and disadvantaged populations are being hit particularly hard by the COVID-19 pandemic; and, structural inequalities in access to health care (or any other service) can become magnified during a crisis, resulting in worse outcomes to disadvantaged groups. In this session, the Director of the Smithsonian Science Education Center will discuss how educators can use real world issues such as COVID-19 and racism to teach integrated transdisciplinary STEM that draws on history, art, culture, social and emotional learning, and civic engagement.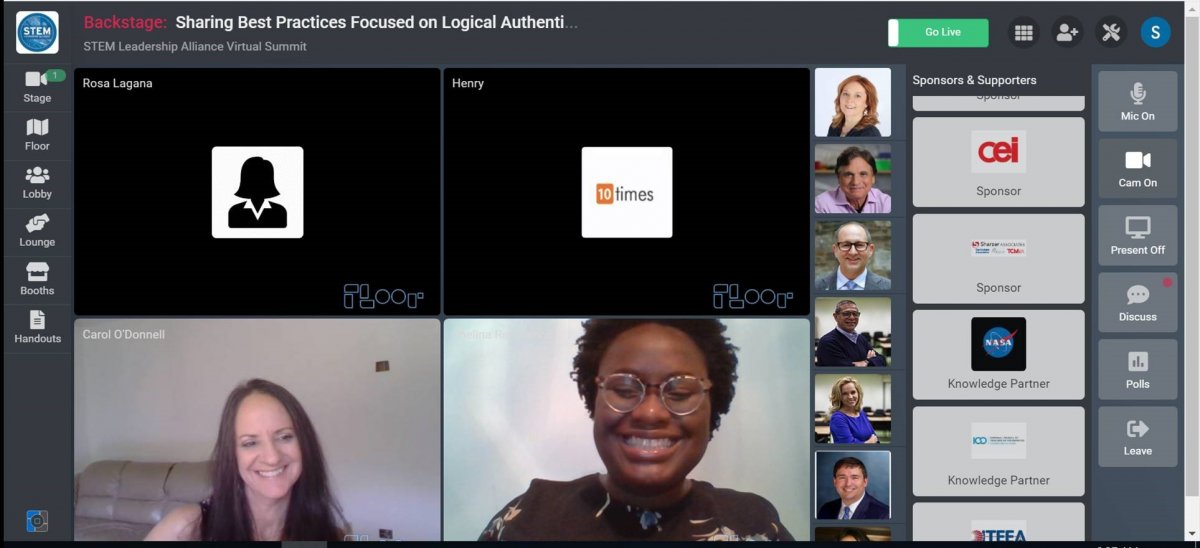 21st CCLC State Education Agency Coordinators Meeting
Carol O'Donnell presented on SSEC's COVID-19 youth guidebook at the 21st CCLC State Education Agency Coordinators Meeting. The primary purpose of the 21st CCLC program, as expressed in Title IV, Part B of the Elementary and Secondary Education Act, is to support the creation of community learning centers that provide academic enrichment opportunities during non-school hours for children, particularly students who attend high-poverty and low-performing schools.
Mashable
Mashable spoke with O'Donnell and two other experts to learn how parents and caregivers can teach young children sustainable habits.
Tips to Keep Kids Learning Over Summer
With remote learning wrapping up and summer camps canceled, many families are at a loss for what to do with their children this summer. The National Parent-Teacher Association (PTA) spoke with O'Donnell and Dr. Rebecca Silverman, who offered creative ideas for keeping kids entertained and learning this summer. Silverman offered ideas for cultivating a love of reading in the Growing Great Readers podcast. O'Donnell talked about fostering curiosity through science projects and everyday opportunities to ask questions in the Raising Curious Kids podcast.
Images courtesy C. O'Donnell & Getty Images
Related Tags
About the Author