July in Review
Smithsonian National Education Summit
On July 28th SSEC Director, Dr. Carol O'Donnell, led a session titled "Convergence Education: A Framework to Help K-12 STEAM Educators Teach about Real-World Transdisciplinary Problems and Phenomena" during the Smithsonian National Education Summit. During the session, which also included members of the Federal Coordination in STEM Education (FC-STEM) Interagency Working Group, participants were given examples of "convergence education." Driven by complex real-world transdisciplinary problems and phenomena--ranging from climate change to biodiversity--learners applied knowledge and skills in a blended approach integrated across multiple disciplines to create and innovate new solutions. 353 live attendees tuned into this session during the summit.
O'Donnell also co-authored a blog which describes Convergence Education.
Recreation Photo
After a decade of often heated debate, on August 10, 1846, President James K. Polk signed legislation to establish the Smithsonian Institution. Since then, the Smithsonian has become the world's largest museum, education, and research complex, with 21 museums, the National Zoo, and nine research facilities.
Last August, we marked our 175th anniversary by recreating a 95 year-old photograph of Smithsonian leaders in the Castle's Great Hall. The Smithsonian has evolved and grown in many ways over the past 175 years, but perhaps none more profoundly than with our people. As we begin our 176th year and look forward to the Nation's 250th anniversary in 2026, we do so with through the lenses and experiences of an increasingly diverse, inclusive, and representative staff and leadership.
The first photograph was taken at the 1927 Conference on the Future of the Smithsonian. Then-Secretary Charles Walcott is seated at the far right of the first row, next to Chief Justice and Smithsonian Chancellor William Howard Taft and President Calvin Coolidge (soon-to-be President Herbert Hoover is directly behind them).
The August 2021 photograph captures the Smithsonian's current leadership. Secretary Bunch is flanked to his left by Deputy Secretary Meroe Park and Under Secretary for Museums and Culture Kevin Gover, and to his right by Chair of the Board of Regents Steve Case and Assistant Secretary for Communications and External Affairs and Chief Marketing Officer Julissa Marenco. A full list of participants in that photograph is below.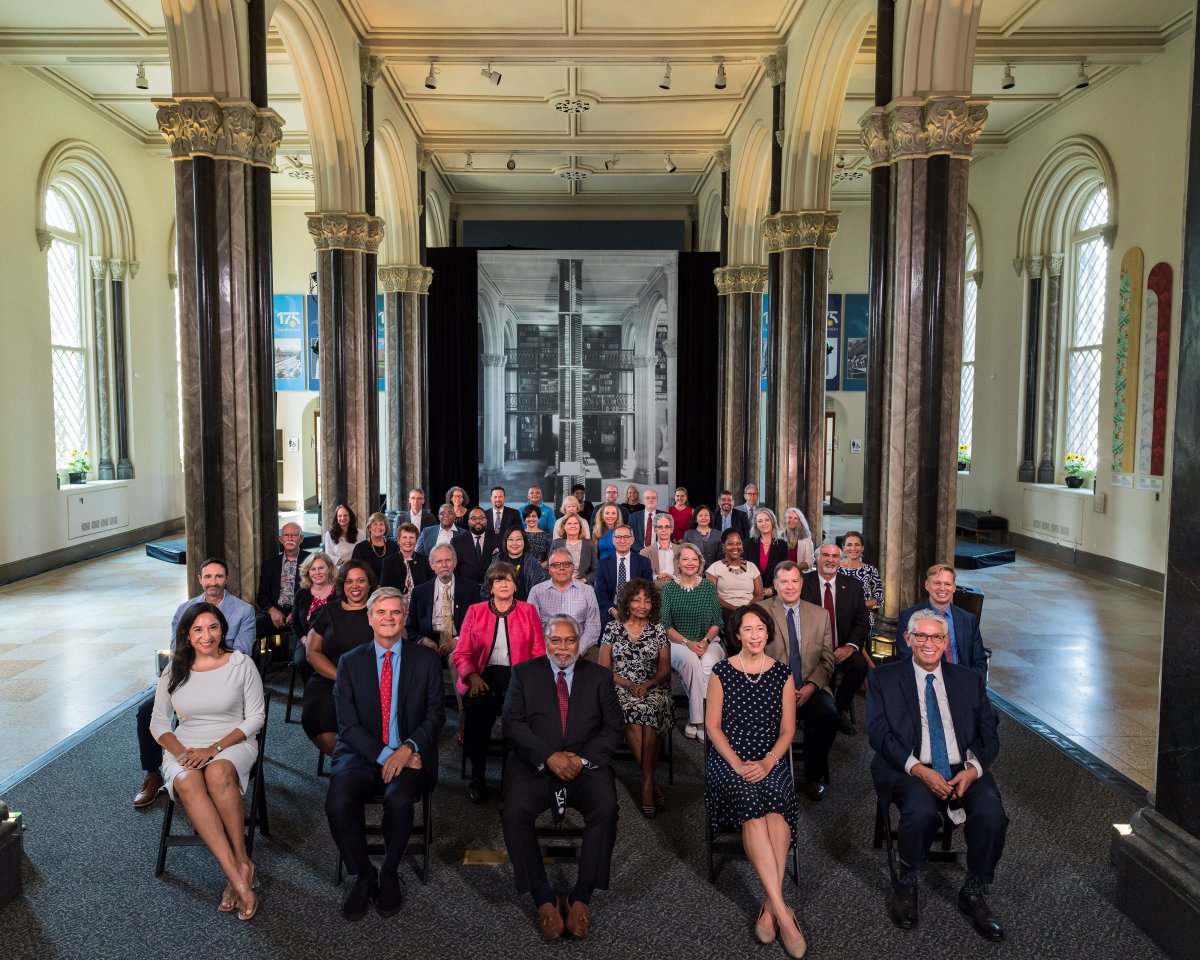 2022 Recreation Participants: Front row (L/R): Julissa Marenco, Steve Case, Lonnie G. Bunch III Secretary of the Smithsonian Institution, Meroe Park, Kevin Gover; Second Row (L/R): Doug Hall, Monique Chism, Cathy Helm, Era Marshall, Rob Spiller, Greg Bettwy; Third Row (L/R): Carol LeBlanc, Charles Alcock, Eduardo Díaz, Kim Sajet, Richard Kurin; Fourth Row (L/R): Tuck Hines, Stephanie Stebich, Lisa Sasaki, Eliot Gruber, Melanie Adams, Rachel Goslins; Fifth Row (L/R): Nancy Bechtol, Kevin Young, Myriam Springuel, Chase Robinson, Anthea Hartig; Sixth Row (L/R): Carol O'Donnell, Vernon Simms, Ruki Neuhold-Ravikumar, Janice Lambert, Amy Chen, Fredie Adelman; Seventh Row: (L/R): Josh Tewksbury, Chris Browne, Liza Kirwin, Scott Miller, Antonio Guzmán; Eighth Row (L/R): Susan Ades, Will Pitt, Mike Reese, Darren Milligan, Joy Columbus, Bill Tompkins; Ninth Row (L/R): Whitney Watriss, Anne Williams, Jennifer Case
Credit: James Di Loreto, Brittany M. Hance, and Mignonette Dooley, Smithsonian Institution
Related Tags
About the Author