September & October in Review
HBCU Week
Smithsonian Science Education Center Director, Carol O'Donnell and Division Director of Professional Services, Amy D'Amico, hosted a VIP session at the 2019 National HBCU Week Conference on September 10 for presidents and executives of Historically Black Colleges and Universities. The session was co-led by SSEC Advisory Board vice-chair and Vice President of the Shell Oil Company Foundation, Frazier Wilson, and focused on the work of the Smithsonian Science Education Center and Shell to build a coalition for attracting and retaining a diverse STEM teaching workforce. Program Manager, Katie Gainsback, also coordinated with SITES and OFI to ensure Smithsonian was represented at an exhibit table throughout the conference.
Fall 2019 Board Dinner & Meetings
The Smithsonian Science Education Center held its Fall 2019 Advisory Board meetings and dinner on October 15th – 16th in Washington, DC. On Tuesday, the center held a meeting to introduce new Advancement Officer and two new Advisory Board Members. Dinner was held that evening at The Smithsonian Institution Building (Castle) with welcoming remarks provided by O'Donnell and the Assistant Secretary for Advancement, Rob J. Spiller. Guests were also provided with details on the remarkable history of the building by Castle Volunteer Coordinator from the Office of Visitor Services, Anne-Marie Gilliland.  The following day the Advisory Board and the SSEC leadership engaged in discussions around K-12 STEM Education and advancing STEM education for sustainable development.
George Washington University Graduate School of Education and Human Development
O'Donnell was recognized as a George Washington University Graduate School of Education and Human Development (GSEHD) alumni along with her two colleagues who were part of the Smithsonian Science for Global Goals team at the Smithsonian Science Education Center. Under the leadership of O'Donnell (Ed.D., Curriculum and Instruction, GWU), the project, Smithsonian Science for Global Goals, was awarded the 2018 Smithsonian Education Innovation Award, which "recognizes an outstanding program, resource, or other initiative in education." Smithsonian Science for Global Goals was recognized for "its boundary-pushing approach to helping students across the globe understand critical socio-scientific issues and how they can take action in their local communities to make a difference. The project's inquiry-based education modules, each focusing on a complex issue such as the challenges and mitigation of mosquito-borne illness and flexibly designed to meet classroom and regional needs, promise to engage and inspire a new generation of scientifically literate global citizens." Heidi Gibson (master's, International Education, GWU) led the development of the curricular framework and the program's focus on informed action as a part of her IEP Capstone project. Katherine Blanchard (master's, International Education, GWU) manages international programming for the Smithsonian Science Education Center, which includes developing and managing implementation mechanisms for the Smithsonian Science for Global Goals program.
Metroplex Area Science Supervisors
O'Donnell served as the invited keynote speaker at the Metroplex Area Science Supervisors (MASS) convening held in the Dallas / Fort Worth, Texas area on October 18th. O'Donnell discussed the importance of place-based learning and engaged the local area school district science supervisors in a hands-on STEM activity from the Smithsonian Science Education Center's 5th grade module, "How can we provide freshwater to those in need?" from the Smithsonian Science for the Classroom Next Generation Science Standards curriculum. In this module, groups of students evaluate information about a specific town in order to design a solution for accessing and treating water that meets specified criteria and constraints. Using the Edwards Aquifer in Texas as the place-based scientific phenomenon, Carol engaged the supervisors first-hand in designing a solution for pumping groundwater (like the water found in the Edwards Aquifer) to the surface. Science supervisors communicated possible solutions to failure points encountered during system testing and discussed its application to Texas. To view O'Donnell's presentation, click here. To request a similar presentation in your area, email knans.griffing@carolina.com.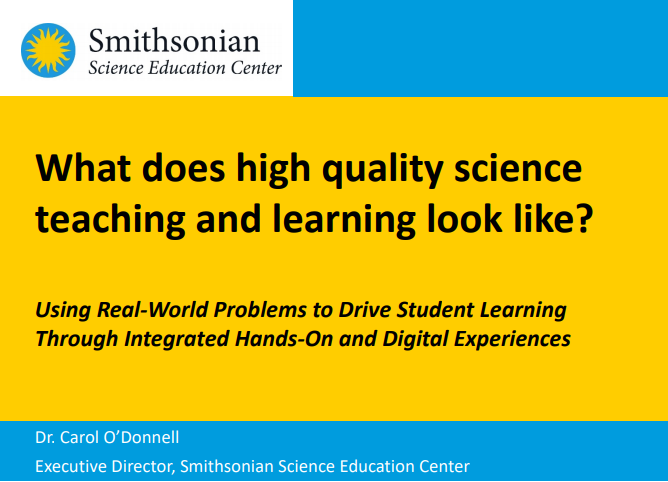 Images courtesy of C. O'Donnell
Related Tags
About the Author