September in Review
Dr. Carol O'Donnell Serves as External Expert on Newly Released Broadband Commission Report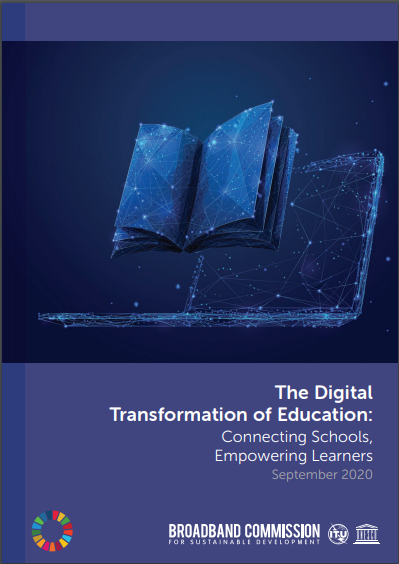 In today's increasingly digital world, 3.6 billion people still have no access to the Internet. Those without access are typically the most vulnerable: minorities, people with disabilities, indigenous and marginalized groups, as well as women, children and youth from disadvantaged socio-economic backgrounds or living in areas affected by conflict and violence. Lack of Internet access reduces paths to a world of information available online, and limits the potential to learn and grow, all of which contribute to the digital divide. Director of the SSEC, Dr. Carol O'Donnell, served as an External Expert on a newly released report from the UN Broadband Commission for Sustainable Development Working Group on School Connectivity. The report, "The Digital Transformation of Education: Connecting Schools, Empowering Learners" was released September 2020. The purpose of the report is to better understand the school connectivity landscape and requirements, evaluate the benefits of different technologies for different environments, analyze business and financial models, and identify suitable pedagogical content needed for digital environments to ensure inclusive learning.
Georgia Science Teachers Association
On September 12th, O'Donnell and Division Director for Professional Services, Amy D'Amico, presented on SSEC's COVID-19! How Can I Protect Myself and Others? Module to 35 school district leaders at the Georgia Science Teachers Association (GSTA) mini- conference. As districts develop plans for their 2020-21 school year, science educators will play an important role in educating students about COVID-19 and the underlying science and social science of the pandemic. SSEC and its collaborators developed a free hands-on guide for youth and their families, available in 25 languages to support English Learners. The session demonstrated some of the practical hands-on activities science educators and caregivers can use with students to help them better understand how to protect themselves and others from COVID-19.
The Global Classroom
On September 22nd O'Donnell and Science Curriculum Developer, Logan Schmidt, presented to 150,000 students across 193 countries during the fourth session of The Global Classroom. Schmidt discussed the Smithsonian Science for Global Goals' "Food! How Do We Ensure Good Nutrition for All?" module and focused on the importance of food diaries for ensuring nutritional balance. The Global Classroom is now established as the largest online classroom for supporting global collaboration for children, and helps children understand the critical importance of physical wellbeing, how to protect themselves, and gain a better understanding of what they can do to stay safe and healthy.
100Kin10 "Ask Me Anything"
SSEC partnered with 100Kin10 to help science education leaders understand SSEC's COVID-19! How Can I Protect Myself and Others? module during its September 24th "Ask Me Anything" webinar. For this session, leaders discussed the best ways to encourage students understand the science behind COVID and other viruses like it.
Nebraska 21st CCLC National Conference
On September 30th, O'Donnell and Blanchard, presented on SSEC's COVID-19! How Can I Protect Myself and Others? module at the Nebraska 21st CCLC National Conference. The Nebraska 21st CCLC program has 150 sites serving over 20,000 students yearly, the majority of which participate in free/reduced lunch (72%), are an ethnic minority (55%) and are English learners (15%).  
"Using Science Education to Shape a Better World"
O'Donnell has been featured in an article by Salzburg Global Seminar titled "Using Science Education to Shape a Better World" for her transformative work with K-12 science education.
Images courtesy The Broadband Commission for Sustainable Development & Getty Images
Related Tags
About the Author